Kelly D. Mezurek
| Filed under:
American History
,
Civil War Era
,
Civil War in the North
,
Discover Black History
,
Understanding Civil War History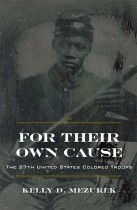 The 27th United States Colored Troops (USCT), composed largely of free black Ohio men, served in the Union army from April 1864 to September 1865 in Virginia and North Carolina. It was the first time most members of the unit had traveled so far from home. The men faced daily battles against racism and against inferior treatment, training, and supplies. They suffered from the physical difficulties of military life, the horrors of warfare, and homesickness and worried about loved ones left at home without financial support. Yet their contributions provided a tool that allowed blacks with little military experience, and their families, to demand social acceptance and acknowledgment of their citizenship.
---