Ross Kennedy
| Filed under:
New Studies in U.S. Foreign Relations
,
U.S. Foreign Relations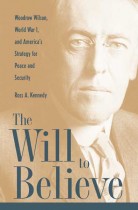 In many ways, Woodrow Wilson and the era of World War I cast a deeper shadow over contemporary foreign policy debates than more recent events, such as the Cold War. More so than after World War II, Wilson and his contemporaries engaged in a wide-ranging debate about the fundamental character of American national security in the modern world. The Will to Believe is the first book that examines that debate in full, offering a detailed analysis of how U.S. political leaders and opinion makers conceptualized and pursued national security from 1914 to 1920.
---