Janice Brown
| Filed under:
Literature & Literary Criticism
,
Recent Releases
,
Tolkien, Lewis, and Inkling Studies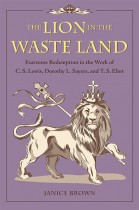 As bombs fell on London almost nightly from the autumn of 1940 through the summer of 1941, the lives of ordinary people were altered beyond recognition. A reclusive Oxford lecturer found himself speaking, not about Renaissance literature to a roomful of students but about Christian doctrine into a BBC microphone. A writer of popular fiction found herself exploring not the intricacies of the whodunit but the mysteries of suffering and grace. An erudite poet and literary critic found himself patrolling the dark streets and piecing together images of fire and redemption. C. S. Lewis, Dorothy L. Sayers, and T. S. Eliot became something they had not been before the war: bearers of a terrible, yet triumphant, message that people could not expect to be spared from pain and suffering, but they would be redeemed through pain and suffering.
---