Randy McNutt and Cheryl Bauer McNutt
| Filed under:
Black Squirrel Books
,
Regional Interest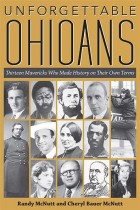 Famous Buckeyes are recognized by practically everyone. They range from presidents and inventors to aviators and astronauts. But other important Ohioans have been unfairly forgotten over the years. To find them, the authors of Unforgettable Ohioans dug beneath the layer of well-known names to discover a cache of remarkable individuals whose lives had significant national or international impact. They won't show up on the top-ten list of most famous Ohioans, but their stories are nonetheless intriguing and important.
---