Verlyn Flieger
| Filed under:
Literature & Literary Criticism
,
Science Fiction and Fantasy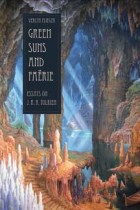 With the release of Peter Jackson's The Lord of the Rings movie trilogy and forthcoming film version of The Hobbit, J. R. R. Tolkien's popularity has never been higher. In Green Suns and Faërie, author Verlyn Flieger, one of world's foremost Tolkien scholars, presents a selection of her best articles—some never before published—on a range of Tolkien topics. The essays are divided into three distinct sections. The first explores Tolkien's ideas of sub-creation–the making of a Secondary World and its relation to the real world, the second looks at Tolkien's reconfiguration of the medieval story tradition, and the third places his work firmly within the context of the twentieth century and "modernist" literature.
---