Literary Mystery Takes Cuyahoga Falls Resident on a 19-year Odyssey
Aug 12th, 2011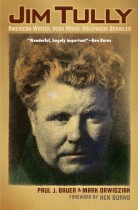 Local paper cuyahogafalls.patch.com speaks to author Mark Dawidziak about The amazing journey that resulted in the publication of
"Jim Tully: American Writer, Irish Rover, Hollywood Brawler"
From the article:
So who was Jim Tully?

That question so intrigued Cuyahoga Falls Resident Mark Dawidziak that he and a friend spent 19 years trying to find out. Their work became a book earlier this year.

Tully, they learned, was one of America's brightest literary lights in the 1920s and 1930s. By the time he died in 1947, he was one of Hollywood's most respected writers and a close friend of W.C. Fields and Lon Chaney.