David Nolin's Discovery and Renewal on Huffman Prairie takes 1st place in 2019 Indie Book Awards
Jun 5th, 2019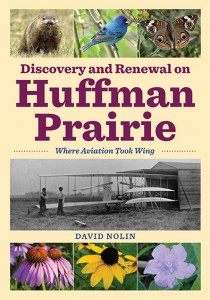 We're pleased to announce that David Nolin's Discovery and Renewal on Huffman Prairie: Where Aviation Took Wing is a 2019 Indie Award winner in the Regional Non-Fiction category.
"Huffman Prairie has been drained, grazed, farmed, used as a flying field by the Wright brothers, and incorporated into Wright Patterson Air Force Base. David Nolin's book takes us on a journey through the restoration of the prairie, demonstrating how the State of Ohio, the National Park Service, and the Air Force worked together to restore the original biodiversity of the land, preserve the Wright brothers' heritage, and make both accessible to the public. Anyone interested in conservation of the natural world or aviation history will enjoy this book."—Tish Davidson, Next Generation Indie Book Awards Judge
Find out more about Discovery and Renewal on Huffman Prairie.