Review of Cleveland Goes Modern at Cleveland.com
Jun 25th, 2014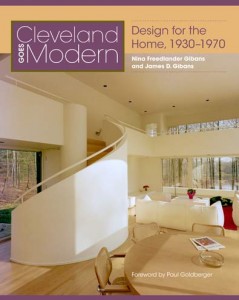 SHAKER HEIGHTS, Ohio – For much of their respective careers, James and Nina Freedlander Gibans have recognized the need to document and preserve Cleveland's underappreciated yet rich architectural heritage. Recently, that passion, after detailed, painstaking work, has reached fruition in two distinct media.
This year, Kent State University Press  has published their Cleveland Goes Modern: Design for the Home, 1930–1970. The publication won the 2014 Western Reserve Award from the Western Reserve Chapter of the Society of Architectural Historians. 
In January, with videographer and director Jesse Epstein, WVIZ/PBSideastream airedUniversity Circle: Creating a Sense of Place
. Nina Gibans is the film's project director and executive producer. Additional screenings will take place later this summer.
The book's focus is on the Modern movement – and the area's architectural history. Based on an award-winning exhibition of the same name, it highlights 24 homes across Northeastern Ohio, including four in Shaker Heights, and six prominent architects, each a Cleveland Arts Prize winner. They are Don Hisaka, John Terence Kelly, Robert Little, William Morris, Ernst Payer, and Fred Toguchi. . .