Ohio History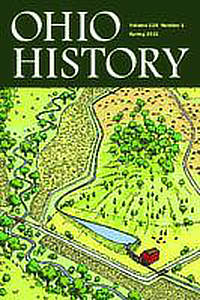 Donna DeBlasio, Editor
Volume 127, Spring 2021
ISSN 0030-0934

For more than 100 years Ohio History, a semiannual peer-reviewed journal, has published scholarly essays, research notes, edited primary documents, and book reviews spanning the political, military, social, economic, ethnic, archaeological, architectural, and cultural history of Ohio and the Midwest. Published twice a year in spring and fall, the journal also includes essays on subjects concerning the nation and the Midwest with an Ohio focus. Under the editorship of Donna DeBlasio, Ohio History continues this venerable and useful scholarly work in its second century.
Submission Guidelines
Editor Donna DeBlasio invite articles, edited documents, and other annotated, unpublished primary materials related to all aspects of Ohio's history as well as manuscripts on the Midwest that focus on Ohio or its region. Manuscripts, including notes, must be double spaced. The documentation should be set as endnotes and prepared according to the Chicago Manual of Style, 15th edition. Originality of subject, general interest of the article, sources used, interpretation, and style are criteria for acceptance and publication. Manuscripts generally should not exceed 7,500 words of text. Articles accepted for publication become the property of
Ohio History
and the Kent State University Press and may not be published elsewhere without permission. The editor and Kent State University do not accept responsibility for statements of fact or opinion made by the contributors. Manuscripts and all correspondence concerning editorial matters should be submitted electronically to
dmdeblasio@ysu.edu
.
Books for review should be submitted to Donna DeBlasio, Department of History, Youngstown State University, Youngstown, Ohio 44555.
Rights and Permissions
Requests for permission to reproduce material published in
Ohio History
from volume 114 on should be made in writing and addressed to:
Permissions Department
Kent State University Press
1118 Library
PO Box 5190
Kent, OH 44242-0001
Permission requests may also be made via email to swadswo2@kent.edu.
Include the following information:
Your Information
Name
Address
City
State / Province
Zip / Postal Code
Country
E-mail address
Phone number
Fax number
Ohio History Information
Article Title
Volume Number
Issue Number
Exact Page Numbers
Author(s)
Information About Your Publication
Your Title
Publisher
Type of publication
Book
Electronic
Both Book and Electronic
Course Pack
Other (please specify)
Publication date
Month / Season
Year
Format
Cloth    Paper    Both
Other
Print run(s)
Sales territory
Pages
Selling price(s)
Permission will be granted for only one version of your publication in the English language. Any other use requires additional permission. Permission does not include electronic or other rights unless specifically stated.