The Insanity Defense and the Mad Murderess of Shaker Heights featured on Ohio.com
Oct 1st, 2018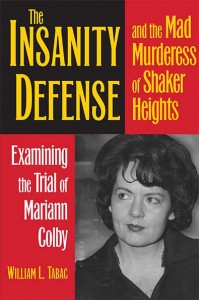 The Akron Beacon Journal explores "Murderous Topics" including the case of Mariann Colby from our book The Insanity Defense and the Mad Murderous of Shaker Heights by William L. Tabac.
"Colby faced a panel of three judges, who listened to the testimony of psychiatrists who described her, variously, as suffering from paranoid schizophrenia, borderline personality disorder and psychosis. One witness stated that she had bought the gun, under an assumed name, to kill a man who had resisted her romantic advances."
Find out more about Mariann Colby.