Civil War History journal goes online
May 3rd, 2019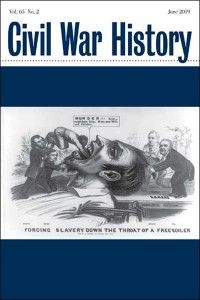 Civil War History, the foremost scholarly journal focused on the American Civil War, is expanding its program to make online content available to all interested readers.
The journal, published by the Kent State University Press and overseen by a board of internationally renowned scholars, is well into its seventh decade. "While we continue to have substantial support for the print edition of the journal, we find more and more that many current subscribers, researchers and students — as well as general readers who are interested in the Civil War — are anxious to be able to access the journal online," said Susan Wadsworth-Booth, Director of the Kent State University Press. "And while online content has been available through institutional subscriptions to Project Muse and EBSCO for some time, we hadn't been able to provide that same service to individual readers. This new initiative makes that not only possible, but easy."
With online hosting and subscription management now being handled by PDCnet.org, both current and new subscribers can choose from print only, online only or a combined print/online option. "Perhaps the most exciting aspect of all this is that the online subscriptions include access to years of previous scholarship," Wadsworth-Booth explained. "While all the archival material is still being formatted, right now subscribers will find everything from 1995 to the present right at their fingertips."
All Civil War History content from its inception in 1955 to current issues will be available within the next few weeks. Each issue's contents are listed, with a preview function that allows both subscribers and nonsubscribers to read the first page of any article or book review. In addition, nonsubscribers can search for individual articles and purchase those directly from the site.
"I am thankful to the leadership at Kent State University Press for moving Civil War History into an online platform," said Brian Miller, the journal's editor and Dean of Humanities, Social Sciences, and Fine Arts at Mission College. "This will provide our readers with instant access to our issues once production has been completed, and will provide generations of readers with the opportunity to have unlimited access to the decades of superb scholarship that has embodied the journal for 65 years and going."
Published quarterly, Civil War History covers the entire scope of the American Civil War era, from the genesis of the sectional crisis through Reconstruction and beyond, highlighting the ramifications of warfare on society. Its topics include slavery and abolition, antebellum and Reconstruction politics, diplomacy, social and cultural developments in mid-19th century America, and military history.
The June 2019 issue will focus on the "State of the Field," with articles by James L. Huston and Thomas J. Balcerski, as well as reviews of ten new books.
For more information or to subscribe, visit kentstateuniversitypress.com/journals/civil-war-history.