Boxscore News reviews The '63 Steelers
May 5th, 2020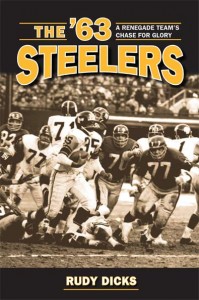 Boxscore News reviews The '63 Steelers: A Renegade Team's Chase for Glory by Rudy Dicks.
"Author Rudy Dicks guides us thru the Steelers 1963 season game by game taking us into the clubhouse and at times inside the huddle. He details mercurial Head Coach Buddy Parker's tactics and back story. Parker and the Pittsburgh faithful find the team one year past a promised championship. Will this be the year the Title arrives? Dicks' highly descriptive account makes one feel as though they are watching an NFL Films documentary."

Read the review . . .
More about the book . . .