The Many Names for Mother selected as a finalist for the 2019 National Jewish Book Awards
Jan 16th, 2020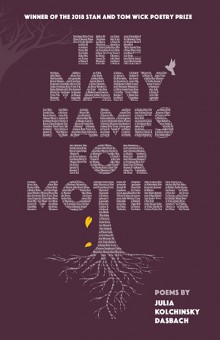 The Many Names For Mother by Julia Kolchinsky Dasbach has been selected as a finalist of the 2019 National Jewish Book Award in the category of Poetry, Berru Award in Memory of Ruth and Bernie Weinflash.
"This book was selected after careful analysis by a panel of judges who are all authorities in their field. The judges encountered a great deal of difficulty in making their decisions this year. Each category offered many viable candidates, which made the selection even harder. It is gratifying to know there is a wide range of Jewish content books available. [This] book now joins the ranks of the hundreds of well-respected, classic Jewish books that have been National Jewish Book Award finalists. The National Jewish Book Awards, now in its 69th year, is the longest-running program of its kind in North America."
Congratulations Julia on a job well Done!