The Uncommon Case of Daniel Brown accepted for submission to MAAH Stone Book Award
Jun 29th, 2021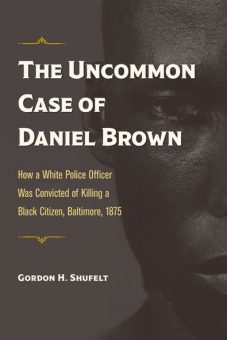 The Uncommon Case of Daniel Brown: How a White Police Officer Was Convicted of Killing a Black Citizen, Baltimore, 1875 by Gordon H. Shufelt has been accepted for submission to The Museum of African American History (MAAH) Stone Book Award. The Kent State University Press is pleased to be listed among such prominent authors as Micheal Eric Dyson, Henry Louis Gates, Jr., and Isabel Wilkerson.
The award objectives are as follows:

To recognize new literary work in the field of African American history and culture

To nurture and inspire future scholarly writing in the field

To reinforce the necessity of continuously examining history

To foster community engagement and dialogue centered around a widely accessible new literary work

To celebrate the joy of learning through reading in partnership with an appreciation of the American historical, cultural artifacts held by the museum to tell stories of the African American experience

To celebrate the history of the successful abolitionist movement that began in Boston and the unity between races that it exemplified and fostered

Find out more about the MAAH Stone Book Award.