Incoming Civil War History editor emphasizes an expanded interdisciplinary vision
Mar 3rd, 2022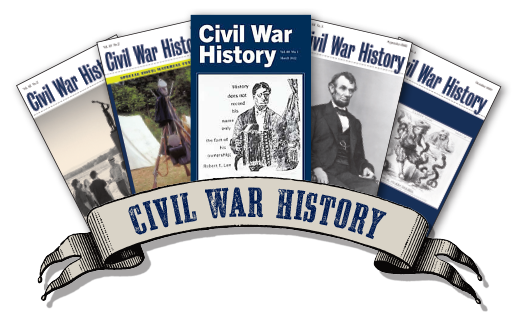 March 2022 marks the 68th volume and another milestone year of Civil War History, the longest-running and leading journal in this area of American history. It also marks the inaugural issue of incoming editor Jim Downs, The Gilder Lehrman NEH Chair of Civil War Era Studies and History at Gettysburg College. Dr. Downs has authored multiple books, edited several anthologies, and published articles and essays in the New Yorker, the Atlantic, Slate, and more. Taking the helm of Civil War History is simply his latest challenge and significant contribution to his field.
While the journal has always made essential contributions to the field of Civil War history, Downs is committed to bringing an even broader audience to the journal by creating "a vibrant space that attracts not just historians but any scholar or student working in the Civil War Era," as he puts it. "With an increased focus on interdisciplinary research," he said, "readers will be able to see more clearly the effects of the Civil War on modern society. The Civil War is constantly in the backdrop of political campaigns, it's part of the larger culture wars related to the 1619 Project, and it's obviously at the center of the debates around the removal of Confederate monuments."
Downs's interest in interdisciplinary studies results from his training, having earned degrees in English litereature and American Studies before completing his PhD in history. A receipent of an Andrew Mellon New Directions fellowship in 2015–16, Downs returned to graduate school and trained in medical anthropology at Harvard University, where he was also a visiting fellow at the Weatherhead Initiative for Global History. "I mourn this lack of interaction between scholars of different fields; interdisciplinary discussions and research will absolutely enrich Civil War studies. Civil War History must be a vibrant space to actually work through those issues and a place for people of varying disciplines to think more deeply about the past."
Downs intentionally built an editorial board that reflects his interdisciplinary training as well as his commitment to reach broader audiences.  Some of the new members include Amanda Claybaugh, a scholar of 19th century literature, Gwendolyn DuBois Shaw and Sarah Lewis, both art historians, and Natasha Trethewey, the former United States Poet Laureate, as well as Yoni Applebaum, the Ideas Editor at the Atlantic.  "I believe the presence of people like this will increase the journal's reach and the submission of articles from a variety of academic studies," Downs emphasized.
In the first issue under Downs's leadership, this interdisciplinary approach is on full display. Featuring a roundtable discussion on the work of Thavolia Glymph—an influential historian whose most recent book, The Women's Fight: The Civil War's Battles for Home, Freedom, and Nation, has won multiple book awards—the discussion includes traditional Civil War historians in addition to leading scholars in other fields. "Dr. Glymph's interdisplinary approach to race, gender, and class is mirrored by the roundtable participants," explained Downs. "Crystal Feimster, also the new associate editor of Civil War History, is a scholar of African American studies, for example, and Marissa Fuentes studies gender in the Caribbean and African diasporas. This variety of participants fostered a really nuaunced exchange about Glymph's work."
Readers of the journal will also notice a new look for its cover that features original artwork. "That I credit to my associate editor, Crystal Feimster," Downs said. For the 2022 volume year, the cover is graced by an illustration by Nell Painter, a retired Princeton historian and now artist.
"Ultimately," Downs said, "my vision for the future of the journal is rooted in a belief that the Civil War shapes modern social and political debates. It remains one of the most studied subjects in schools at all levels from elementary to graduate schools."
" The Civil War is popularly read about in bestselling books and often appears in film, television, and other media," Downs explained. "Civil War History is an essential place to generate new interpretations and to uncover new stories about the past." But he recognizes that also comes with a heavy responsibility. One of his favorite articles from the journal, "We Should Grow Too Fond of It: Why We Love the Civil War," was written by his undergraduate teacher, Drew Gilpin Faust, in an issue from 2004. Faust documents the popularity of Civil War history but also urges readers to not forget to critically engage it. Faust explains, "We love war because of these stories. But we should ask ourselves how in the construction of war's stories we may be helping to construct war itself."
"I'm grateful for the opportunity to influence the discussion of Civil War history in such a profound way," Downs concluded. "I'm excited to make Civil War History a meaningful space for dynamic, interdisciplinary scholarship."
For more information on Civil War History or to subscribe to print or electronic editions, go to PDCnet.org/cwh.