Civil War History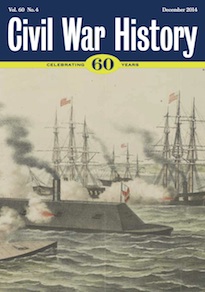 Lesley J. Gordon, Editor
Kevin Adams, Associate Editor
Brian Craig Miller, Book Review Editor
ISSN 0009-8078

---
Preview Upcoming Issue:
"WHERE DO WE STAND?": A CRITICAL ASSESSMENT OF CIVIL WAR STUDIES IN THE SESQUICENTENNIAL ERA
By: Earl J. Hess
REFLECTIONS ON "WHERE DO WE STAND?"
By: Jennifer Weber and Richard McCaslin
"THE AMERICAN CIVIL WAR IN BRITISH MILITARY THOUGHT FROM THE 1880s TO THE 1930s"
By: Nimrod Tal
"LETTERS FROM THE MONITOR": THE CIVIL WAR CORRESPONDENCE OF JACOB NICKLIS, U.S. NAVY
Edited by: Jonathan White and Christopher J. Chappell
"HAS THE DEMOGRAPHIC IMPACT OF CIVIL WAR DEATHS BEEN EXAGGERATED?"
By: J. David Hacker
---
About
Civil War History
is in its sixth decade as the leading scholarly journal of "the middle period"—covering not only the War Between the States but the events leading up to it and the results flowing from it. Its topics include slavery and abolition, antebellum and Reconstruction politics, diplomacy, social and cultural developments in mid–nineteenth century America, and military history.
In addition to the major articles in each issue, comprehensive book reviews assist the scholar in keeping abreast of current literature in the field.
As the outstanding forum for studies in this pivotal period in American history, Civil War History belongs in every major library collection, including those for students, historians, buffs, and the interested general reader.
Civil War History is especially seeking pioneering scholarship that investigates the cultural, social, and comparative history of the Civil War era. We encourage contributors and readers to contact us directly at civilwarhistory@uakron.edu.
Board of Editors:
Catherine Clinton, Queens University, Belfast
J. Matthew Gallman, University of Florida
Susan-Mary Grant, New Castle University (UK)
Chandra Manning, Georgetown University
Megan Kate Nelson, Harvard University
Kenneth W. Noe, Auburn University
George C. Rable, University of Alabama
Anne Sarah Rubin, University of Maryland—Baltimore County
Brooks Simpson, Arizona State University
Daniel Sutherland, University of Arkansas
Susannah Ural, University of Southern Mississippi
Brian S. Wills, Kennesaw State University
Editorial Staff
Editor
Lesley J. Gordon received her A.B. from the College of William and Mary and her M.A. and Ph.D. from the University of Georgia. Gordon is professor of history at the University of Akron, where she teaches courses in the Civil War and Reconstruction, U.S. military history, and the Early Republic. Gordon's publications include General George E. Pickett in Life and Legend (University of North Carolina Press, 1998), Intimate Strategies of the Civil War: Military Commanders and Their Wives (Oxford University Press, 2001), Inside the Confederate Nation: Essays in Honor of Emory M. Thomas (Louisiana State University Press, 2005); and This Terrible War: The Civil War and Its Aftermath (Longman, 2003), as well as several articles and numerous book reviews. She is completing a study of the 16th Regiment Connecticut Infantry in war and memory.
Associate Editor
Kevin Adams earned an A.B. in history with a minor in geography, and his M.A. and Ph.D. in American history from the University of California, Berkeley. Adams is assistant professor at Kent State University in Kent, Ohio, where he teaches undergraduate and graduate courses on war and society in the United States since 1607, American immigration history, Gilded Age America, the history of the American West, and the Civil War and Reconstruction. The author of Class and Race in the Frontier Army: Military Life in the West, 1870–1890 (University of Oklahoma Press, 2009), Adams is in the early stages of a second book project, a study that uses the domestic interventions of the U.S. Army in Indian Affairs, Reconstruction, labor disputes, and anti-Chinese riots to examine federal power in the aftermath of the Civil War.
Book Review Editor
Submit books for review to:
Brian Craig Miller, Ph.D.
Book Review Editor, Civil War History
Assistant Professor and Associate Chair of History
Emporia State University
1200 Commercial Street
Emporia, KS 66801
(620) 341-5573
Brian Craig Miller received his B.A. from the Pennsylvania State University and his M.A. and Ph.D. from the University of Mississippi. He is presently assistant professor and associate chair of history at Emporia State University, where he teaches courses in the Early Republic, Civil War and Reconstruction, African American history, and memory in history. Miller's publications include John Bell Hood and the Fight for Civil War Memory (University of Tennessee Press, 2010) and The American Memory: Americans and Their History to 1877 (Kendall-Hunt, 2008), as well as articles and several book reviews. Miller is currently engaged in a study of Confederate soldiers who lost limbs during the war and editing the wartime letters of an Iowa soldier.
Submission Guidelines
Submitting an Article
Send article manuscripts to:
Lesley J. Gordon, Editor
Civil War History
Department of History
University of Akron
Akron OH 44325-1902
civilwarhistory@uakron.edu
Basic Formatting Guidelines
Most popular word processing programs in either PC or Mac platform may be acceptable, but Microsoft Word is strongly preferred.
The text should be double-spaced in 12-point type.
Text pages should be numbered consecutively.
Include the author's name <span