Volume 57 No. 3, September 2011
May 20th, 2011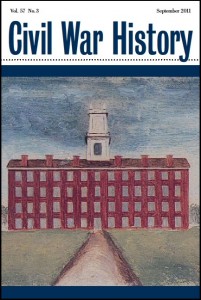 Abstracts
Abstracts
The Moral Journey of a Political Abolitionist
By Frederick J. Blue
Salmon P. Chase has been a much-maligned politician beginning with his emergence as a Liberty party leader in the early 1840s and culminating as Chief Justice of the U. S. Supreme Court.  While recognized as a crusading abolitionist, he has too often been dismissed as an opportunist willing to do virtually anything to achieve his personal political goal of the presidency.  Many of his contemporaries were especially critical of his methods in winning election to the U. S. Senate in 1849 and his unrelenting maneuvering for a presidential nomination.  In a like manner, historians have typically found few redeeming virtues in his quest for political power.  This is perhaps best seen in Doris Kearns Goodwin's acclaimed study of Abraham Lincoln and his leading cabinet members, Team of Rivals.
This article suggests that Chase is a much more complex figure than critics have maintained.  Few have understood his deep commitment to abolitionism and racial quality.  Nor have they recognized the link between principle and ambition which, for Chase, meant that in order to act on his moral beliefs he knew he must operate from a position of power.  Chase was indeed politically ambitious, but he sincerely sought to achieve antislavery goals.  A closer look at Chase's career places him within this dual perspective.  This study also traces his religious or spiritual faith journey as he sought both political advancement and moral reform.  We need not claim him to be an unselfish man of pure principle to recognize his genuine achievements.
"All the Truly Wise or Truly Pious Have One and the Same End in View": Oberlin, the West, and the Abolitionist Schism
By J.Brent Morris
This article examines the role of Oberlin (the Ohio town and its organically connected college of the same name), Ohio, and the west in the antebellum antislavery struggle of the 1840s.  It argues for a shift in scholars' attention to the west as the nerve center of American abolitionism by the 1840s and away from the distracting "schism" developing between reformers in the east.  Moreover, it locates the western region as the locus of some of the most ideologically influential and tactically successful groups of abolitionists within the antislavery vanguard.  Oberlin was instrumental in developing diversity in antislavery thought, an aspect of the movement that few historians have explored.  Rather than falling into one of the distinct categories that many scholars have traditionally placed abolitionists, Oberlinites and the many  who followed their example took the field as men and women devoted to ending slavery by any means necessary, even if that was through unconventional methods or by an abandonment of strict ideological consistency.  Their philosophy was a composite of various schools of anti-slavery thought aimed at supporting the best hope of success.  While more visible eastern abolitionist feuded among themselves, Oberlin and the western arm of the movement stayed comparatively above the fray, and devoted their energies to "practical abolitionism" rather than ideologically-based fraternal disputes.
Contributors
Contributors
Frederick J. Blue is professor emeritus in history at Youngstown State University. Among his publications are Salmon P. Chase: A Life in Politics (Kent State Univ. Press, 1987) and No Taint of Compromise: Crusaders in Antislavery Politics (Louisiana State Univ. Press, 2005).
J. Brent Morris received his Ph.D. from Cornell University in 2010. He is currently a visiting research fellow at the University of South Carolina Institute for Southern Studies and lecturer in history at the Aiken and Sumter campuses of the University of South Carolina.
Book Reviews
Book Reviews
George C. Rable, God's Almost Chosen People: A Religious History of the American Civil War. Reviewed by Mark A. Noll.
Elizabeth R. Varon, Disunion! The Coming of the American Civil War, 1789–1859. Reviewed by Frank Towers.
Stephanie McCurry, Confederate Reckoning: Power and Politics in the Civil War South. Reviewed by Peter S. Carmichael.
Michael T. Bernath, Confederate Minds: The Struggle for Intellectual Independence in the Civil War South. Reviewed by Jason Phillips.
Louis P. Masur, The Civil War: A Concise History. Reviewed by Bruce A. Rubenstein.
J. Matthew Gallman, Northerners at War: Reflections on the Civil War Home Front. Reviewed by Paul A. Cimbala.
Joseph T. Glatthaar, General Lee's Army: From Victory to Collapse. Reviewed by Brian Holden Reid.
Michael D. Pierson, Mutiny at Fort Jackson: The Untold Story of the Fall of New Orleans. Reviewed by Michael Thomas Smith.
Brian Craig Miller, John Bell Hood and the Fight for Civil War Memory. Reviewed by Gaines M. Foster.
Jack C. Mason, Until Antietam: The Life and Letters of Major General Israel B. Richardson, U.S. Army. Reviewed by Gregory R. Jones.
Donald C. Maness and H. Jason Combs, Eds., Do They Miss Me at Home? The Civil War Letters of William McKnight, Seventh Ohio Volunteer Cavalry. Reviewed by Matthew E. Stanley.
W. Eric Emerson and Karen Stokes, Eds., Faith, Valor, and Devotion: The Civil War Letters of William Porcher DuBose. Reviewed by April E. Holm.