Volume 57 No. 4, December 2011
Aug 26th, 2011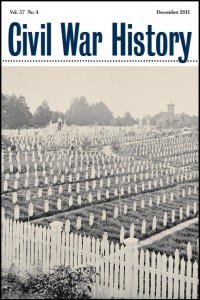 Abstracts
Abstracts
A Census-Based Count of the Civil War Dead
By J. David Hacker
Winner of the 2012 John T. Hubbell Award
Our feature article in the December issue by J. David Hacker "A Census-Based Count of the Civil War Dead," argues that the century-old estimate of 620,000 is far too low. Using new national samples of the 1850-1880 censuses and a census-based method of mortality estimation, Hacker argues that the likely total was approximately 750,000. This essay is a direct response to Mark Neely's recent contention that Drew Gilpin Faust's work on death and dying in the war "serves most importantly to show how old and how little analyzed are figures so important to understanding the Civil War." "We can add to our 'to do' list," the author suggests, "a future sophisticated statistical assessment of the traditional figures given for losses in the Civil War."
Follow this link to view an NBC News report from April 2012.
Conditional Confederates:   Absenteeism in Western North Carolina Soldiers, 1861-1865
By Scott King-Owen
Using statistics compiled from Western North Carolina soldier's service records, I challenge the notion that Civil War desertions represent a rejection of Confederate nationalism and a regional commitment to Unionism.  Compiled statistics for county rates of desertion in Western North Carolina show more or less affinity for absenteeism generated in the context of the county level social and political milieu.  I reject sociological models of desertion for not being sufficiently complex to capture patterns of absenteeism.  Most desertions reflect more complex behavior of periodic absenteeism followed by a return to duty that allowed men to maintain their sense of honor and support for their families.  The Unionist label applied to Western North Carolina largely results from small bands local activity aided by larger out-of-state support
Contributors
Contributors
J. David Hacker is associate professor of history at Binghamton University, SUNY. His research focuses on the demographic history of the United States before 1940. He has published articles on trends and determinants in mortality, economic and anthropometric correlates of first marriage, the onset of long-term fertility decline, the impact of parental religiosity on fertility, and the effect of the Civil War on southern marriage patterns.
Scott King-Owen recently graduated from The Ohio State University with a Ph.D. in early American history. He completed a dissertation on law and state formation in post-Revolutionary North Carolina under the direction of John Brooke.
Book Reviews
Book Reviews
James W. Loewen and Edward H. Sebesta, The Confederate and Neo-Confederate Reader: The "Great Truth" about the "Lost Cause." Reviewed by David Goldfield.
James Lander, Lincoln and Darwin: Shared Visions of Race, Science, and Religion. Reviewed by Jean H. Baker.
Phillip W. Magness and Sebastian N. Page, Colonization after Emancipation: Lincoln and the Movement for Black Resettlement. Reviewed by K. Stephen Prince.
Richard W. Etulain, Ed., Lincoln Looks West: From the Mississippi to the Pacific. Reviewed by Kristen K. Epps.
A. E. Elmore, Lincoln's Gettysburg Address: Echoes of the Bible and Book of Common Prayer. Reviewed by Patricia Ann Owens.
Gale L. Kenny, Contentious Liberties: American Abolitionists in Post-Emancipation Jamaica, 1834–1866. Reviewed by Rebecca Hartkopf Schloss.
Peter Wood, Near Andersonville: Winslow Homer's Civil War. Reviewed by Kirk Savage .
Steven E. Woodworth, Ed., The Chickamauga Campaign. Reviewed by Christopher Stacey.
Johnnie Perry Pearson, Ed., Lee and Jackson's Bloody Twelfth: The Letters of Irby Goodwin Scott, First Lieutenant, Company G, Putnam Light Infantry, Twelfth Georgia Volunteer Infantry. Reviewed by Steven E. Sodergren.
William A. McClendon, Recollections of War Times By an Old Veteran while under Stonewall Jackson and Lieutenant General James Longstreet: How I Got In and How I Got Out. Reviewed by Jeremy Prichard.
Bobbie Swearingen Smith, Ed., A Palmetto Boy: Civil War‑Era Diaries and Letters of James Adams Tillman. Reviewed by Audrey M. Uffner.
Marilyn S. Blackwell and Kristen T. Oertel, Frontier Feminist: Clarina Nichols and the Politics of Motherhood. Reviewed by Stacey Robertson.
Jeff Forret, Race Relations at the Margins: Slaves and Poor Whites in the Antebellum Southern Countryside.
Justin A. Nystrom, New Orleans after the Civil War: Race, Politics, and a New Birth of Freedom.
Ami Pflugrad-Jackisch, Brothers of a Vow: Secret Fraternal Orders and the Transformation of White Male Culture in Antebellum Virginia.
Robert N. Rosen and Richard W. Hatcher III, The First Shot.
Jonathan D. Sarna and Adam Mendelsohn, Eds., Jews and the Civil War: A Reader.
Jyotirmaya Tripathy, Sura P. Rath, and William D. Pederson, Eds., Abraham Lincoln without Borders: Lincoln's Legacy outside the United States.
Spencer C. Tucker, Ed., The Civil War Naval Encyclopedia. 2 volumes.
Hans Konrad Van Tilburg, A Civil War Gunboat in Pacific Waters: Life on Board the USS Saginaw.