Volume 58, No. 1, March 2012
Nov 22nd, 2011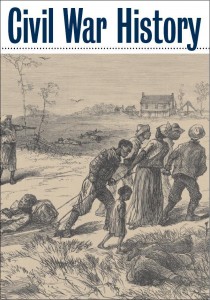 Abstracts
Abstracts
Wars for the American South: The First and Second Reconstructions Considered as Insurgencies
By Mark Grimsley
Our featured review essay by eminent military historian Mark Grimsley imaginatively combines recent scholarship from the Reconstruction and the Civil Rights eras with contemporary counterinsurgency theory. Bringing together these disparate strands of research leads him to the provocative conclusion that  the hundred years after Appomattox is best understood as a century-long insurgency, a "protracted war for the American South," which pitted "the forces of white supremacy against the forces of black liberation."
Virginia's Embattled Textbooks: Lessons (Learned and Not) from the Centennial Era
By Carol Sheriff
Carol Sheriff reflects on the textbook controversy that erupted in her home state of Virginia in 2010. Her essay takes a deeper historical view of the topic, finding that once a similar debate erupted on the eve of the Civil War centennial, the intensity of the politics surrounding textbook production and selection only increased. As a consequence of these disputes, the Commonwealth of Virginia came to adopt textbook standards that, in the case of the claim regarding Stonewall Jackson's legions of "black Confederates," allowed for the creation of new myths.
Assuring Freedom to the Free: Jefferson's Declaration and the Conflict over Slavery
By Jeremy J. Tewell
Jeremy J. Tewell's article "Assuring Freedom to the Free: Jefferson's Declaration and the Conflict over Slavery" explores the parallels between the famed Revolutionary document and Republicans' conceptions of liberty during the Civil War era. Tewell contends that for some Republicans, including, most importantly, Abraham Lincoln, Americans' failure to repudiate slavery also served as a repudiation of the natural rights ostensibly guaranteed by the Declaration, leading many Republicans to believe that all white men were "vulnerable to proslavery rationales" and might theoretically be enslaved.
Contributors
Mark Grimsley is associate professor of history at The Ohio State University. He is the author of several books, including The Hard Hand of War: Union Military Policy toward Southern Civilians, 1861–1865 (Cambridge: Cambridge University Press, 1995).
Carol Sheriff is the Class of 2013 Professor of History at the College of William and Mary. Her most recent book is A People at War: Civilians and Soldiers in America's Civil War (New York: Oxford University Press, 2007), which she coauthored with Scott Reynolds Nelson.
Jeremy Tewell received his PhD from Oklahoma State University in 2010. He is assistant professor of history at Nicholls State University in Thibodaux, Louisiana, and specializes in the Early Republic and the Civil War era.
Reviews
Media Reviews
"The Conspirator."  Directed by Robert Redford.  Reviewed by Elizabeth D. Leonard.
"The American Experience: Robert E. Lee."  Produced by Mark Zwonitzer.  Reviewed by Richard B. McCaslin.
Book Reviews
Stanley Harrold, Border War: Fighting over Slavery before the Civil War.  Reviewed by Kristen T. Oertel.
Gordon S. Barker, The Imperfect Revolution: Anthony Burns and the Landscape of Race in Antebellum America.  Reviewed by Matthew Mason.
Earl M. Maltz, Fugitive Slave on Trial: The Anthony Burns Case and Abolitionist Outrage.  Reviewed by Matthew Mason.
Kate Masur, An Example for All the Land: Emancipation and the Struggle for Equality in Washington, D.C..  Reviewed by Janette Thomas Greenwood.
Victoria E. Bynum, The Long Shadow of the Civil War: Southern Dissent and Its Legacies.  Reviewed by Barton Myers.
Victoria E. Ott, Confederate Daughters: Coming of Age during the Civil War.  Reviewed by David Greenspoon.
Susannah J. Ural, Ed., Civil War Citizens: Race, Ethnicity, and Identity in America's Bloodiest Conflicts.  Reviewed by J. Matthew Gallman.
Cynthia Wachtell, War No More: The Antiwar Impulse in American Literature, 1861-1914.  Reviewed by Michael T. Bernath.
Randall Fuller, From Battlefields Rising: How the Civil War Transformed American Literature.  Reviewed by  A. E. Elmore.
Anne E. Marshall, Creating a Confederate Kentucky: The Lost Cause and Civil War Memory in a Border State.  Reviewed by Christopher Phillips.
Cameron C. Nickels, Civil War Humor.  Reviewed by Robert C. Poister.
Steven R. Boyd, Patriotic Envelopes of the Civil War: The Iconography of Union and Confederate Covers.  Reviewed by Matthew C. Hulbert.
Hampton Smith, Ed., Brother of Mine: The Civil War Letters of Thomas and William Christie.  Reviewed by Ryan W. Keating.
Robert Sandow, Deserter Country: Civil Opposition in the Pennsylvania Appalachians.  Reviewed by Melinda Lawson
Craig Warren, Scars to Prove It: The Civil War Soldier and American Fiction.  Reviewed by Robert M. Myers
Book Notes
Richard M. Coffman, Going Back the Way They Came: The Phillips Georgia Legion Cavalry Battalion.
Ovid L. Futch, History of Andersonville Prison (revised edition).
James and Suzanne Gindlesperger, So You Think You Know Gettysburg? The Stories Behind the Monuments and Men Who Fought One of America's Most Epic Battles.
Michael S. Green, Politics and America in Crisis: the Coming of the Civil War.
Christopher H. hammer, Enduring Battle: American Soldiers in three Wars, 1776-1945.
Anthony Mora, Border Dilemmas: Racial and National Uncertainties in New Mexico, 1848-1912.
Myra Helmer Pritchard, Jason Emerson, Ed., The Dark Days of Abraham Lincoln's Widow, as Revealed by Her Own Letters.
Rita Roberts, Evangelicalism and the Politics of Reform in Northern Black Thought, 1776-1863.
Paul R. Wylie, The Irish General: Thomas Francis Meagher.
Other Books Received
Thomas Lowry, Utterly Worthless: One Thousand Delinquent Union Offiers Unworthy of a Court-Martial.
Other Media Received
"The Untold Secrets of the Civil War," Reader's Digest Association DVD.