June 2012 Volume 58 Number 2
Feb 22nd, 2012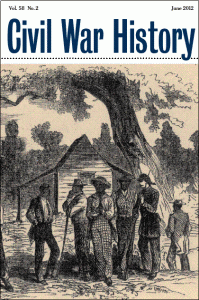 Abstracts
The Guerrilla Shirt:  A Labor of Love and the Fashion of Rebellion in Civil War Missouri
By Joseph M. Beilein Jr.
Guerrilla fashion points to a conflict between two groups of men – Union soldiers and the guerrillas – who held divergent beliefs on what it meant to be a man.  By tracing the history and evolution of this "irregular" military style from its roots in the fashion of antebellum frontiersmen and Indians, through the production of guerrilla clothing by rebel women, to the significance placed on clothes by the men who wore them, this article explores the battle over manhood.  While guerrilla manhood was misunderstood by Union soldiers then and is misinterpreted by historians now, it greatly influenced the tactics used by the guerrillas and shaped the experience of combat as much or more than any other force.  In the end, this work fuses both military and social history together to offer a more inclusive history of the guerrilla war with more explanatory power than previous attempts on the subject.
War in Earnest: The Army of Virginia and the Radicalization of the Union War Effort, 1862
By John Matsui
The article "War in Earnest: The Army of Virginia and the Radicalization of the Union War Effort, 1862," demonstrates the increasing disgruntlement of Union citizen-soldiers and volunteer officers towards the intransigent civilian population of Virginia by summer 1862.  They were joined in the view that harsher policies must be implemented by radical Republicans in Congress and Lincoln's Cabinet, as well as a cadre of antislavery generals who were dissatisfied with the conciliatory civil-military policies of General George B. McClellan.  These constituencies united in the efforts of western general John Pope and the new Army of Virginia to punish disloyal civilians and protect self-emancipated slaves in an attempt to wrest control of the war effort from both conservative Democrats and moderate Republicans like Lincoln.
A Canadian Yankee in King Cotton's Court
Edited by Marc-William Palen
A Canadian travel writer, unnamed, offers a unique and detailed foreigner's perspective as he treks from Texas to Ottawa in the first months of the Civil War. From prairies to plantations, from coast to capital, he vividly describes daily life in Texas, whether a slave funeral procession in Austin, the lynching of a Methodist minister, or a woman chewing tobacco as her family and slaves travel by wagon from Georgia to San Antonio. In doing so, the Ottawan's observations offer insight as well to the complex racial culture and prejudices that prevailed not only in Texas and the Deep South, but as far north as Canada, as well. His descriptions of the countryside are vivid, his views on Austin and other Texas towns informative and detailed, his perception of the paranoia and doubt throughout the South palpable, his portrayal of plantation life controversial. The Canadian's somewhat sympathetic picture of the Texas plantation system and his own racial stereotypes will be of interest to a variety of historians, and at times complements, at others contradicts, various historical studies of Texas slavery.
Contributors
Joseph M. Beilein Jr. is completing his PhD at the University of Missouri, Columbia.  This article is one chapter of his larger dissertation project, which is entitled, "Household War: Men, Women, and Guerrilla Warfare in Civil War Missouri."
John H. Matsui is a graduate of Princeton University and is currently working on a PhD at the Johns Hopkins University. His dissertation explores interracial friendship in the American antislavery movement.
Marc-William Palen earned his PhD at the University of Texas at Austin. He is presently a postdoctoral fellow at the U.S. Studies Centre at the University of Sydney.
Reviews
Book Reviews
Gallagher, Gary. The Union War. Reviewed by Steven Woodworth.
Leonard, Elizabeth. Lincoln's Forgotten Ally: Judge Advocate General Joseph Holt of Kentucky. Reviewed by Christian McWhirter.
Minardi, Margot. Making Slavery History: Abolitionism and the Politics of Memory in Massachusetts. Reviewed by John M. Barr.
Burke, Diane Mutti. On Slavery's Border: Missouri's Small-Slaveholding Households, 1815-1565. Reviewed by Louis S. Gerteis.
Robertson, Stacey. Hearts Beating for Liberty: Women Abolitionists in the Old Northwest. Reviewed by Anne Twitty.
Woodworth, Steven E. This Great Struggle: America's Civil War. Reviewed by Brian S. Wills.
Cook, Robert J. Civil War Senator: William Pitt Fessenden and the Fight to Save the American Republic. Reviewed by Kellie Carter Jackson.
Kreiser, Jr., Lawrence A.   Defeating Lee: A History of the Second Corps, Army of the Potomac. Reviewed by  Ethan S. Rafuse.
Kelley, Sean M. Los Brazos De Dios: A Plantation Society in the Texas Borderlands, 1821-1865. Reviewed by Miguel A. Levario.
Bonan, Gordon B. The Edge of Mosby's Sword: The Life of Confederate Colonel William Henry Chapman. Reviewed by Joseph M. Rizzo.
Smith, Timothy B. Mississippi in the Civil War: The Home Front. Reviewed by Susanna Michele Lee.
Reid, Richard M., editor. Practicing Medicine in a Black Regiment: The Civil War Diary of Burt G. Wilder, 55th Massachusetts. Reviewed by David E. Goldberg.
Martin, George Winston. "I Will Give Them One More Shot": Ramsey's 1st Regiment Georgia Volunteers. Reviewed by Samuel B. McGuire.
Hughes, Jr., Nathaniel Cheairs and S. Kittrell Rushing, editors. Refugitta of Richmond: The Wartime Recollections, Grave and Gay, of Constance Cary Harrison. Reviewed by Jennifer Newman Trevino.
Book Notes
Barney, William L. The Oxford Encyclopedia of the Civil War.
Gold, David M. Cyrus Hamlin's Civil War:  Letters of the Vice President's Son on the Civil War and Reconstruction.
Hughes, Jr., Nathaniel Cheairs and Roy P. Stoneisfer, Jr. The Life and Wars of Gideon J. Pillow.
Hunter, Lloyd A., editor. For Duty and Destiny:  The Life and Civil War Diary of William Taylor Stott, Hoosier Soldier and Educator.
Kastenberg, Joshua E. Law in War, War as Law:  Brigadier General Joseph Holt and the Judge Advocate General's Department in the Civil War and Early Reconstruction, 1861-1865.
Ladenheim, J.C. Grant's Keeper:  The Life of John A. Rawlins.
Lee, Maurice S., editor. The Cambridge Companion to Frederick Douglass.
Linker, Beth. War's Waste: Rehabilitation in World War I America.
Matt, Susan J. Homesickness:  An American History.
Newell, Clayton R. and Charles R. Shrader. Of Duty Well and Faithfully Done:  A History of the Regular Army in the Civil War.
Peake, Michael A. Blood Shed in this War:  Civil War Illustrations by Captain Adolph Metzner, 32nd Indiana.
Stephens, Gail. Shadow of Shiloh:  Major General Lew Wallace in the Civil War.
Other Books Received
Betts, Jr., William W. Rank and Gravity: The Life of General John Armstrong of Carlisle.