December 2012, Volume 58, No. 4
Sep 25th, 2012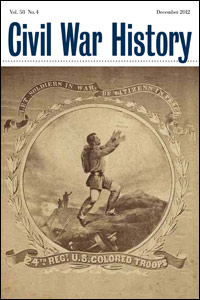 Abstracts
"It is Time for the States to Speak to the Federal Government": The Altoona Conference and Emancipation
By Stephen Engle
The Union victory in the Civil War was a triumph of American federalism. Preservation of its political structure guaranteed the continuance of a national existence and established a blueprint for transforming the antebellum union of states into a powerful nation. It also led to a reappraisal of the presumption that a federal system ensured a weak central government.  Preservation of the Union necessitated that citizens place a significant degree of importance on a group known as "War Governors."  As guardians of the states, governors were well positioned to negotiate struggles between the state house and the White House and made themselves vital cogs in the war effort and Union policies.   By exercising unprecedented influence and administrative leadership, governors assumed "statesmen-like" prestige that accorded them new-found respect among their constituents.  Yet for such an enormous subject, we know so little about governors and their significance during the war. Without the willingness of northern governors who independently agreed to uphold the Union, marshal their states' resources, and cooperate in establishing a national army and support Lincoln's initiatives, Lincoln would have been hard pressed to preserve the Union.  The Altoona Conference of September 1862 provides a small, but significant window into how and why governors came to see themselves as the guardians of a reconstituted federal structure that allowed them the opportunity to weld the power they believed they had been entitled by their cooperation in preserving the Union.
A Politics of Service: Black Northerners' Debates over Enlistment in the American Civil War
By Brian Taylor
"A Politics of Service" investigates black Northerners' shifting evaluations of the wisdom of black enlistment and black service's potential to win expanded rights and privileges for African Americans.  It recognizes that black Northerners did not see black service as a foregone conclusion, and follows the debate between black Northerners who advocated immediate enlistment and those who argued that black men should wait until guaranteed rights commensurate with full manhood and citizenship before enlisting.  Black Northerners taking this latter stance saw black service as a bargaining chip rather than a duty, and suggested that they fought not to restore the old Union but to win a new, racially-reformed Union in which black men and women would enjoy the same rights and privileges as whites.
Contributors
Stephen Engle is a professor of history at Florida Atlantic University and director of the Alan B. Larkin Symposium on the American Presidency.  His current work explores northern federalism during the Civil War and is entitled War Governers and Abraham Lincoln: Preserving the Union and Building Federalism.
Brian Taylor is a doctoral student entering his third year at Georgetown University. He holds a BA in history from Washington College in Maryland and an MA in history from Villanova University. His research interrests include the Civil War, slavery, and emancipation.
Reviews
Book Reviews
Fellman, Michael. Views from the Dark Side of American History. Reviewed by Mark Grimsley.
Blight, David. American Oracle: The Civil War in the Civil Rights Era. Reviewed by Caroline E. Janney.
Hess, Earl. The Civil War in the West: Victory and Defeat from the Appalachians to the Mississippi. Reviewed by Kenneth W. Noe.
Green, Michael, Lincoln and the Election of 1860 and  Gregory Borchard, Abraham Lincoln and Horace Greeley. Reviewed by Mitchell Snay.
Boman, Dennis, Lincoln and Citizen's Rights in Civil War Missouri: Balancing Freedom and Security and Burrus Carnahan, Lincoln on Trial: Southern Civilians and the Law of War. Reviewed by Aaron Sheehan-Dean.
Abruzzo, Margaret. Polemical Pain: Slavery, Cruelty, and the Rise of Humanitarianism. Reviewed by Jeff Forret.
Ballard, Michael. The Civil War in Mississippi: Major Campaigns and Battles. Reviewed by Ben Wynne.
Glatthaar, Joseph. Soldiering in the Army of Northern Virginia: A Statistical Portrait of the Troops Who Served under Robert E. Lee. Reviewed by Larry M. Logue.
Knight, H. Jackson. Confederate Invention: The Story of the Confederate States Patent Office and Its Inventors. Reviewed by Robert W. Burg.
Spruill, Matt. Decisions at Gettysburg: The Nineteen Critical Decisions that Defined the Campaign. Reviewed by Jennifer M. Murray.
Silkenat, David. Moments of Despair: Suicide, Divorce, and Debt in Civil War Era North Carolina. Reviewed by Diane Miller Sommerville.
Orr, Timothy, ed. Last to Leave the Field: The Life and Letters of First Sergeant Ambrose Henry Hayward, 28th Pennsylvania Volunteer Infantry.  Reviewed by Evan C. Rothera.
Winter, William, ed. Captain Joseph Boyce and the First Missouri Infantry, C.S.A. Reviewed by Joseph M. Beilein, Jr.
Barnhart, Terry. Albert Taylor Bledsoe: Defender of the Old South and Architect of the Lost Cause. Reviewed by Mark Cheathem.
Glasrud, Bruce, ed. Brothers to the Buffalo Soldiers:  Perspectives on the African-American Militia and Volunteers, 1865 – 1917. Reviewed by Marc Dluger.
Book Notes
Castel, Albert and Brooks D. Simpson. Victors in Blue:  How Union Generals Fought the Confederates, Battled Each Other, and Won the Civil War.
Lardas, Mark. CSS Alabama vs. USS Kearsarge:  Cherbourg 1864.
Luebke, Peter, ed. The Story of a Thousand by Albion W. Tourgée.
Reilly, Elizabeth, ed. Infinite Hope and Finite Disappointment:  The Story of the First Interpreters of the Fourteenth Amendment.
Robins, Glenn, ed. "They Have Left us Here to Die" The Civil War Prison Diary of Sgt. Lyle G. Adair, 111th U.S. Colored Infantry.
Media Notes
Privates by Choice. Hardtack and Saddlesores:  New Songs of the Civil War.