The Perfect Gift for the Cook in your Life!
Nov 20th, 2012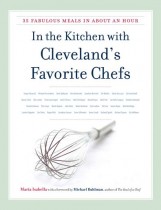 A rare behind-the-scenes look at how Cleveland's top toques entertain at home
Have you ever wondered what your favorite local chefs cook at home? What they prepare for their own family and friends? What they whip up when truly pressed for time? The secret's finally out as In the Kitchen with Cleveland's Favorite Chefs takes you into the private kitchens of 35 local culinary greats to discover what's really cooking.
Author and food enthusiast Maria Isabella posed the same challenge to each featured chef: If you were suddenly to get a call at home from good friends who wanted to stop by, what would you prepare for them in one hour or less? The answers are as varied as the chefs themselves, who represent an exciting array of gastronomic talent—from celebrity chefs, restaurant chef/owners, and institutional chefs, to caterers, cooking instructors, and researchers. Each chef shares detailed recipes for delicious signature meals that can be prepared quickly and easily at home—119 dishes in all, including a wide range of meat, fish, and vegetarian choices to tempt every palate. Helpful wine pairings are offered as well. Accompanying each recipe are gorgeous full-color photographs featuring both the chefs and their culinary showpieces. Isabella's profiles of each chef offer fascinating insights into everything from personal life stories to tips for successful last-minute entertaining.