June 2013, Volume 59, No. 2
Mar 11th, 2013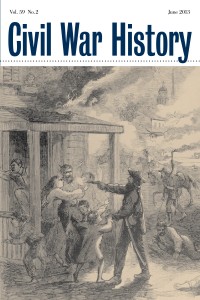 Abstracts
HOW TO REMEMBER "THIS DAMNABLE GUERRILLA WARFARE": FOUR VIGNETTES FROM CIVIL WAR MISSOURI
By Matthew C. Hulbert
The wave of brutal guerrilla violence that engulfed the state of Missouri during the Civil War represented a unique wartime experience—one marked by hyper-local, intensely personal bloodshed and violation. Far from the best-known fields of regular war like Manassas, Fredericksburg, Gettysburg, or Petersburg, the men, women, and children of Missouri faced a daily struggle in which murder, rape, arson, torture, theft, and habitual fear constituted the status quo. This essay utilizes four vignettes to explore how and why Missourians chose to preserve and remember the aforementioned traumas as they had actually experienced them in local and individual units. These accounts ultimately reveal how many Missourians consciously abstained from the opportunity to re-remember a more "regular" or collective version of the war, even as such narratives gained great traction regionally and nationally. And it is precisely because they abstained that these Missourians call on us to reassess our understanding of how the broadest legacies of the Civil War were selectively forged in the Reconstruction period…
CROSSING FREEDOM'S FAULT LINE: SPACE, LAW, THE UNDERGROUND RAILROAD, AND CIVIL WAR CAUSALITY
By Scott Hancock
"Crossing Freedom's Fault Line" explores the role of escaping slaves on the underground railroad as a primary cause of the Civil War by forcing white northerners and southerners to see one another's legal systems and geographic spaces as incompatible. North-South borders such as the Mason-Dixon line became legal and geographic fault lines that crystalized the growing tension between different conceptions of how law guaranteed freedom. Escaping slaves kept transgressing that line, reinforcing the legal and ideological meanings of southern space as the denial of freedom, and of northern space as a semi-mythical promise of freedom in the minds of black and white Americans.  But slaves' violation of the border, though strengthening its meaning, also made a mockery of its reality.  As a result, white Americans on both sides of the geographical, legal, and ideological boundaries redoubled their efforts to protect their understandings of their own space on either side of the border.
THE "TROUBLOUS TIMES" OF 1860-1861: A MEMOIR BY COLONEL RICHARD IRVING DODGE, U.S. ARMY
By Wayne Kime, Editor
During his forty-three year career as a commissioned officer, Richard Irving Dodge (1827-1895) became a well-known figure both within and outside the U.S. Army.  To the American public he was best known as the author of three books–The Black Hills (1876),The Plains of the Great West and Their Inhabitants (1877), and Our Wild Indians (1822), all direct outgrowths of his long service on the western frontier.  Following his retirement in 1891, Colonel Dodge took up new projects of writing, one of which developed a topic he had never broached in print–namely, his trials at the outbreak of the Civil War.  Despite his strong ties to home and family in North Carolina, when war broke out he remained firm for the Union.  His memoir details his vexed efforts as a loyal southerner to secure an appropriate place among the forces being marshaled for the Union's war effort.  Dodge left the completed work to his son as "a side-light on the history of those terrible times," granting him permission to publish it, but not until after his own death.  Here first published, the narrative lays bare the permanent marks scored upon his consciousness by the experience, and ultimately by the imputation of possible disloyalty that set at naught his faithful service, tarnished his name, and blasted his prospects for leadership on the battlefield–pushing him to the brink of resignation from the Army.
Contributors
Wayne R. Kime is retired as Professor of English at Fairmont State University, West Virginia. His varied publications in American literature and history include four edited volumes of Col. Richard Irving Dodge's twenty journals, a critical edition of Dodge's The Plains of North America and Their Inhabit- ants, and a biography, Colonel Richard Irving Dodge: The Life and Times of a Career Army Officer.
Scott Hancock is associate professor of history and Africana studies at Gettysburg College. Some of his previous work examining connections between law and African American identity in the Early Republic era has appeared in anthologies such as Paths to Freedom and We Shall Independent Be.
Matthew C. Hulbert is a doctoral student in history at the University of Georgia specializing in Civil War memory and irregular warfare. He has previously published articles on the subject in the Journal of the Civil War Era and the Journal of the West and currently serves as book review editor of the Civil War Monitor.
Reviews
Hell on Wheels. AMC, Sundays 9/8c. Produced by Joe and Tony Gayton. Endemol USA, 2011 (http://www .amctv.com/shows/hell-on-wheels). Reviewed by Megan Kate Nelson.
Guelzo, Allen. Fateful Lightning: A New History of the Civil War and Reconstruction. Reviewed by Rachel A. Shelden.
Neely, Mark E. Jr. Lincoln and the Triumph of the Nation: Constitutional Conflict in the American Civil War. Reviewed by Jennifer L. Weber.
Genovese, Eugene D. and Elizabeth Fox-Genovese. Fatal Self-Deception: Slaveholding Paternalism in the Old South. Reviewed by Peter Kolchin.
Newman, Richard and James Mueller, eds. Antislavery and Abolition in Philadelphia: Emancipation and the Long Struggle for Racial Justice in the City of Brotherly Love. Reviewed by Corey M. Brooks.
Follett, Richard, Eric Foner, and Walter Johnson, eds. Slavery's Ghost: The Problem of Freedom in the Age of Emancipation. Reviewed by J. Brent Morris.
Scarborough, William Kauffman. The Allstons of Chicora Wood: Wealth, Honor, and Gentility in the South Carolina Lowcountry. Reviewed by Matthew Karp.
Gugliotta, Guy. Freedom's Cap: The United States Capitol and the Coming of the Civil War. Reviewed by William L. Barney.
Etcheson, Nicole. A Generation at War: The Civil War Era in a Northern Community. Reviewed by Robert S. Shelton.
Bergeron, Paul H. Andrew Johnson's Civil War and Reconstruction. Reviewed by Andrew Slap.
Magid, Paul. George Crook: From the Redwoods to Appomattox. Reviewed by Tom Kirker.
Davis, Hugh. "We Will Be Satisfied with Nothing Less:" The African American Struggle for Equal Rights in the North during Reconstruction. Reviewed by Jarret Ruminski.
Malcolm, Jim, ed. The Civil War Journal of Private Heyward Emmell, Ambulance and Infantry Corps: A Very Disagreeable War. Reviewed by William R. Feeney.
Mazzagetti, Dominick. "True Jersey Blues" The Civil War Letters of Lucien A. Voorhees and William Mackenzie Thompson, 15th Regiment, New Jersey Volunteers. Reviewed by Claribel Young.
Wells, Jonathan Daniel. Women Writers and Journalists in the Nineteenth-Century South. Reviewed by Elizabeth Whittenburg Ozment.
Book Notes:
Frank, Lisa Tendrich and Daniel Kilbride, eds. Southern Character: Essays in Honor of Bertram Wyatt-Brown.
Jewett, Clayton E. ed. The Battlefield and Beyond: Essays on the American Civil War.
Williams, Frank J. and Michael Burkhimer, eds. The Mary Lincoln Enigma: Historians on America's Most Controversial First Lady.
Books Received:
Agonito, Rosemary. Miss Lizzie's War: The Double Life of Southern Belle Spy Elizabeth Van Lew.
Arthur, Anthony. General Jo Shelby's March.
Bennett, John D. Place Names of the Civil War: Cities, Towns, Villages, Railroad Stations, Forts, Camps, Islands, Rivers, Creeks, Fords and Ferries.
Bryant, James K. II. The 36th Infantry United States Colored Troops in the Civil War: A History and Roster.
Coles, David and Stephen Engle, eds. A Yankee Horseman in the Shenandoah Valley: The Letters of John H. Black, Twelfth Pennsylvania Cavalry.
DeLombard, Jeannine Marie. In the Shadow of the Gallows: Race, Crime, and American Civic Identity.
Grzyb, Frank L. Rhode Island's Civil War Hospital: Life and Death at Portsmouth Grove, 1862–1865.
Kazanjian, Howard and Chris Enss. Sam Sixkiller: Cherokee Frontier Lawman.
McCullough, Joseph A. The Civil War Quiz Book.
Nichols, David A. Lincoln and the Indians: Civil War Policy and Politics.
O'Neill, Robert F. Chasing Jeb Stuart and John Mosby: The Union Cavalry in Northern Virginia from Second Manassas to Gettysburg.
Oates, Stephen B. The Approaching Fury: Voices of the Storm, 1820–1861.
Oates, Stephen B. The Whirlwind of War: Voices of the Storm, 1861–1865.
Perry, Aldo S. Civil War Courts-Martial of North Carolina Troops.
Sheppard, Jonathan C. By the Noble Daring of Her Sons: The Florida Brigade of the Army of Tennessee.
Simon, John Y. The Union Forever: Lincoln, Grant, and the Civil War.
Smith, Steven B., ed. The Writings of Abraham Lincoln.
Stoker, Donald. The Grand Design: Strategy and the Civil War.
Williams, Edward B. Hood's Texas Brigade in the Civil War.