The perfect gift for Browns fans!
Oct 28th, 2013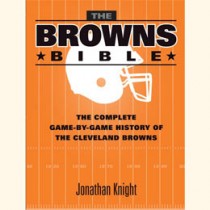 The essential guide to every game in Browns history
Every Sunday in autumn, a new chapter is written in the long and storied history of the Cleveland Browns. The team has played nearly one thousand games over the past eight decades, and The Browns Bible tells the tale of each one. From Sunday-afternoon spectacles to Monday-night madness, from the Shamrock Bowl to the Playoff Bowl, The Browns Bible is the definitive guide to one of the most enduring franchises in professional sports. Includes complete stats for every game.