December 2014, Volume 60, No. 4
Sep 15th, 2014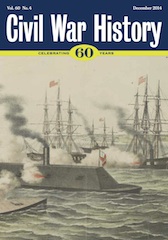 Editors' Overview
Editors' Overview
The final issue of our sixtieth anniversary year engages a contentious theme in the study of the Civil War era: military history. How exactly to integrate the military storylines of the war into decades of scholarship primarily interested in the society and culture of Civil War America remains a pressing concern for historians; some might even wonder whether such a move is possible or advisable. In the hopes of furthering this scholarly conversation, the editors of Civil War History have devoted this issue to a series of wide- ranging explorations of the war's military dimensions. Leading off is Earl Hess's "Where Do We Stand? A Critical Assessment of Civil War Studies in the Sesquicentennial Era," which analyzes a series of common stereotypes regarding military history and issues a call to arms for the entire field. Based in part on a survey sent out to a large number of leading historians in the field, as well as a careful examination of trends in dissertation research and book publishing, Hess asserts that "our field has veered dramatically away from a full embrace of military history in all its facets," and urges Civil War scholars to consider military history a crucial part of understanding the era. Our readers may be particularly surprised by Hess's discovery that, rather than fading from prior dominance, military history has never enjoyed a strong presence in the academy. Overall, we see Hess' polemical essay as helping to contribute to the ongoing debate on this important topic. To help launch the ensuing discussion that we hope will follow, we have also asked a pair of noted historians, Jennifer Weber and Richard McCaslin, to provide brief reflections on Hess's piece.
Following this discussion, two scholars shed light on some relatively dark corners of the military past. Christopher Chappell and Jonathan White's "Letters from the Monitor" provides a different look at the famed ironside by allowing us to understand her crew and operations through the letters of Jacob Nicklis, an ordinary sailor. Through a well-crafted description of the worlds of both the Monitor and Nicklis, Chappell and White's introduction facilitates the easy classroom use of these fascinating letters. Nimrod Tal's "The American Civil War in British Military Thought," meanwhile, represents an important contribution to the transnational study of the Civil War. In shifting readers' attention away from the tactical lessons of the war drawn by British thinkers, Tal suggests that the war's impact on American national development preoccupied the British military elite. This reading of America's internecine conflict prompted a much broader discussion of, as Tal phrases it, the significance of expanding American power, and is a vital source of lessons concerning "war as a historical agent that changed the United States from a premodern, relatively decentralized, isolationist country into a modern, unified global power."
In March 2014, Nicholas Marshall published "The Great Exaggeration: Death and the Civil War." The article garnered a strong reaction from many quarters, and we as editors took the author's assertion, that historians have overstated the larger significance of the war's high death toll, to be a challenge to J. David Hacker's seminal piece that appeared in these pages in December 2011. We invited Hacker to reply to Marshall, and are pleased to include his thoughtful response here.
Finally, our book review section includes studies that run the gamut of methodological approaches, including W. Caleb McDaniel's much-anticipated transatlantic study of abolitionism, William Link's account of the battle over Civil War memory in Atlanta, and Andrew Slap and Michael Thomas Smith's collection of essays on the northern home front.
Contributors
Christopher J. Chappell is a social studies teacher at Menchville High School, in Newport News, Virginia. He edited the Nicklis letters with Jonathan W. White as part of an independent study toward his master of arts in teaching degree at Christopher Newport University.
J. David Hacker is a demographic historian at the University of Minnesota and coeditor of Historical Methods: A Journal of Quantitative and Interdisciplinary History.
Earl J. Hess holds the Stewart W. McClelland Chair in History at Lincoln Memorial University. He has authored sixteen books, coauthored three, and edited one, mostly in Civil War studies but also in film production history.
Richard B. McCaslin is professor of history at the University of North Texas and the author or editor of eleven books, including Tainted Breeze: The Great Hanging at Gainesville, Texas, 1862 (1997).
Nimrod Tal is a lecturer in American history at Kibbutzim College, Israel. His field of interest is the role of historical consciousness in constituting the Anglo-American community in the nineteenth and twentieth centuries. His current work explores the lingering British fascination with the memory of the American Civil War.
Jennifer Weber is associate professor of history at the University of Kansas, where she specializes in Civil War studies. Weber is author of Copperheads: The Rise and Fall of Lincoln's Opponents in the North (2006) and currently working on a book about the impact of conscription on the North.
Jonathan W. White is assistant professor of American Studies at Christopher Newport University and author of Abraham Lincoln and Treason in the Civil War: The Trials of John Merryman (2011) and Emancipation, the Union Army, and the Reelection of Abraham Lincoln (2014). He is currently writing a history of sleep and dreams during the Civil War called "Midnight in America."
Reviews
Reviews
McDaniel, W. Caleb. The Problem of Democracy in the Age of Slavery: Garrisonian Abolitionists and Transatlantic Reform. Reviewed by Jonathan Daniel Wells.
Cottrol, Robert J. The Long, Lingering Shadow: Slavery, Race, and Law in the American Hemisphere. Reviewed by Sharon A. Roger Hepburn.
Girardeau, Cape. Bondage in Egypt: Slavery in Southern Illinois. Reviewed by Matthew E. Stanley.
Smith, David G. On the Edge of Freedom: The Fugitive Slave Issue in South Central Pennsylvania, 1820-1870; Jeremy J. Tewell. A Self-Evident Lie: Southern Slavery and the Threat to American Freedom. Reviewed by Larry A. Greene.
Cook, Robert J., William Barney, and Elizabeth R. Varon. Secession Winter: When the Union Fell Apart. Reviewed by John C. Inscoe.
Reardon, Carol and Tom Vossler. A Field Guide to Gettysburg: Experiencing the Battlefield Through Its History, Places, and People. Reviewed by: Brian Matthew Jordan.
Link, William A. Atlanta, Cradle of the New South: Race and Remembering in the Civil War's Aftermath. Reviewed by Wendy Hamand Venet.
Laver, Harry S. A General Who Will Fight: The Leadership of Ulysses S. Grant. Reviewed by Patrick S. Brady.
Derden, John K. The World's Largest Prison: The Story of Camp Lawton; Roger Pickenpaugh. Captives in Blue: The Civil War Prisons of the Confederacy. Reviewed by Michael P. Gray.
Spielvogel, J. Christian. Interpreting Sacred Ground: The Rhetoric of National Civil War Parks and Battlefields. Reviewed by Jack Pittenger.
Ballard, Michael B. and Mark R. Cheathem, ed. Of Times and Race: Essays Inspired by John F. Marzalek; Andrew L. Slap and Michael Thomas Smith, ed. This Distracted and Anarchical People: New Answers for Old Questions about the Civil War-Era North. Reviewed by Bernard von Bothmer.
Potter, James E. Standing Firmly by the Flag: Nebraska Territory and the Civil War, 1861-1867. Reviewed by Dillon Jackson Carroll.