December 2015, Volume 61, No. 4
Sep 11th, 2015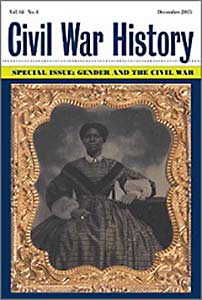 Abstracts
Torn Bonnets and Stolen Silks: Fashion, Race, Gender, and Danger in the Wartime South
by: Joan E. Cashin
Historians of the Civil War era have neglected the history of fashion, but it can offer rich insights on gender, class, and race relations.  In the antebellum South, planter women and female house slaves participated in an international fashion culture, although they experienced it in very different ways.  The outbreak of the war politicized clothing as never before, even as it required an immense amount of material resources.  During the conflict, soldiers in both armies stole women's clothing, for both political reasons—to attack symbols of elite culture—and practical reasons—to make use of the cloth.  Soldierly misconduct had some unexpected outcomes, however, reminding white and black women that they were women in a man's world.
George Gordon Meade and the Boundaries of Nineteenth-Century Military Masculinity
by: Christopher S. Stowe
If there is agreement that Maj. Gen. George Gordon Meade's famed irascible temperament damaged at times both his personal relationships and the Army of the Potomac's command climate, little scholarly analysis exists in assessing not only its foundational aspects, but more importantly the motivations and gendered performance of a nineteenth-century American officer about whom no clear socio-military consensus has emerged. One basis upon which to examine Meade lies within the context of Victorian masculinity. Recent scholarship on gender in the mid-nineteenth century sheds light upon the sources of manhood for officers like Meade, who strove to obtain a place within an American society transformed by market revolution. Moreover, Meade's wartime struggles with his passions illustrate the challenges inherent to maintaining self-control in a fluid, often-chaotic military milieu, a setting where a belligerent and unrepressed form of manhood also flourished. These struggles underscored the tenuous margin that existed between restrained and aggressive manhood in nineteenth-century martial affairs.
This study examines Meade's social development and military experience against the background of intricate and even contested notions of masculinity. Notably, Meade's desire during the 1830s to create an independent, "self-made" manhood foundered against the background of market uncertainties and national fiscal retrenchment. His subsequent ability to create a stable manhood owed itself instead to the cultivation of military relationships stressing self-discipline and interdependence borne of the United States Army's obligation to achieve the nation's policy objectives. With the coming of the Civil War in 1861, Meade guarded his well-won reputation as a gentleman-officer with a fierceness notable even among friends and contemporaries. Indeed, this seeming paradox between restraint and aggression had a place within the military culture of the Army of the Potomac, though not without creating controversy and defiance among gentleman-officers and others who were so often the victim of his temperamental flare-ups.
Historians' Forum: "Bonnet Brigades at 50: Reflections on Mary Elizabeth Massey and Gender in Civil War History" 
featuring: Judith Giesberg, Nina Silber, Joan Cashin, Thavolia Glymph, Lyde Cullen Sizer, Amy Murrell Taylor, Catherine Clinton, and Eileen Brumitt
On the 50th anniversary of the publication of Mary Elizabeth Massey's 1966 Bonnet Brigades, Civil War History asked a panel of historians to consider Massey's legacy for historians of women in the Civil War. In a two-part Historians' Forum, scholars assess Massey's scholarship, produced in the midst of the Civil War Centennial and the Civil Rights Movement, and consider the odds Massey was up against working as a woman in a male-dominated field. They also offer their own thoughts on the opportunities women in the field enjoy today and the obstacles that remain in their way.
Contributors
Eileen Brumitt is the writing center director at Cedar Crest College. Eileen has earned a master's degree in English Literature and a master's degree in History. Her academic interest is in 19th Century history and literature, and she writes about Civil War women and slavery.
Joan E. Cashin is Professor of History at Ohio State University. She is the author or editor of four books, and she has published numerous articles on nineteenth-century America.
Catherine Clinton is the Denman Endowed Professor in American History at the University of Texas, San Antonio. She is the author or editor of 25 books, including The Plantation Mistress: Woman's World in the Old South (1980); The Other Civil War: American Women in the Nineteenth Century (1984); Southern Families at War: Loyalty and Conflict in the Civil War South (2000); and Harriet Tubman: The Road to Freedom.
Judith Giesberg is Professor of History at Villanova University, and most recently author of "Army at Home": Women and the Civil War on the Northern Home Front (2012) and editor of Emilie Davis's Civil War: The Diaries of a Free Black Woman in Philadelphia, 1863-1865 (2014). Her current book project explores pornography and sexual culture in US Army camps during the Civil War.
Thavolia Glymph is an associate professor of history and African and African American studies at Duke University. She is the author of Out of the House of Bondage: The Transformation of the Plantation Household (2008) and a coeditor of two volumes of Freedom: A Documentary History of Emancipation, 1861-1867 (Ser. 1, Vols. 1 and 3, 1985 and 1990), a part of the Freedmen and Southern Society Project. She is currently completing "Women at War," a study of women in the Civil War.
Nina Silber is Professor of History at Boston University.  Her books include The Romance of Reunion: Northerners and the South, 1865-1900; Daughters of the Union: Northern Women Fight the Civil War; and Gender and the Sectional Conflict.
Lyde Cullen Sizer teaches U.S. Cultural and Intellectual history and Civil War history at Sarah Lawrence College. Her book The Political Work of Northern Women Writers in the American Civil War Era, 1850-1872 (2000), won the 2001 Avery O. Craven Award from the Organization of American Historians.
Christopher S. Stowe serves as War Studies Department Head, Command and Staff College, Marine Corps University, Quantico, Virginia. The author of numerous articles and reviews in Civil War history, he is completing a critical biography of George Gordon Meade for The Kent State University Press.
Amy Murrell Taylor is an Associate Professor of History at the University of Kentucky.  She is the author of The Divided Family in Civil War America (UNC, 2005), and is currently completing a book manuscript entitled Embattled Freedom: Journeys through the Civil War's Slave Refugee Camps.
Reviews
Media Review:
Civil War: The Untold Story. Reviewed by Drew A. Gruber.
Book Reviews:
Holzer, Harold. Lincoln and the Power of the Press: The War for Public Opinion. Reviewed by Jack Furniss.
Dunn, Durwood. The Civil War in Southern Appalachian Methodism. Reviewed by Charity R. Carney.
Sheldon, Rachel A. Washington Brotherhood: Politics, Social Life, and the Coming of the Civil War. Reviewed by Peter R. Thomas.
Williams, David. I Freed Myself: African American Self-Emancipation in the Civil War Era. Reviewed by Edward J. Blum.
Brewster, Todd. Lincoln's Gamble: The Tumultuous Six Months that Gave America the Emancipation Proclamation and the Changed the Course of the Civil War. Reviewed by Robert O. Faith.
Horn, Jonathan. The Man Who Would Not Be Washington: Robert E. Lee's Civil War and His Decision that Changed American History. Reviewed by Greg Bailey.
Gwynne, S. C. Rebel Yell: The Violence, Passion, and Redemption of Stonewall Jackson. Reviewed by Christopher Losson.
Wills, Brian Steel. The River Was Dyed with Blood: Nathan Bedford Forrest and Fort Pillow. Reviewed by John Cimprich.
Cooling III, Benjamin Franklin. Jubal Early: Robert E. Lee's "Bad Old Man." Reviewed by Kathryn Shively Meier.
Davis, James A. Music Along the Rapidan: Civil War Soldiers, Music, and Community during Winter Quarters, Virginia. Reviewed by Ashley Bowen-Murphy.
White, Jonathan W. Emancipation, The Union Army, and the Reelection of Abraham Lincoln. Reviewed by Madeleine Forrest.
Murray, Jennifer M. On a Great Battlefield: The Making, Management, and Memory of Gettysburg National Military Park, 1933-2013. Reviewed by Jared Peatman.
Jones, Evan C., and Wiley Sword, eds. Gateway to the Confederacy: New Perspectives on the Chickamauga and Chattanooga Campaigns, 1862-1863. Reviewed by Jonathan A. Noyalas.
Schmiel, Eugene D. Citizen-General: Jacob Dolson Cox and the Civil War Era. Reviewed by Timothy Wesley.
Escott, Paul D. Uncommonly Savage: Civil War and Remembrance in Spain and the United States. Reviewed by Wayne H. Bowen.