September 2015, Volume 61, No. 3
Jun 24th, 2015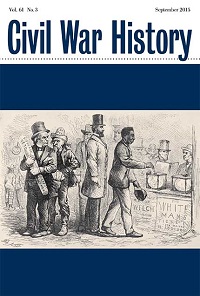 Abstracts
Reframing the Antebellum Democratic Mainstream: Transatlantic Diplomacy and the Career of Pierre Soulé
by: Jennifer R. Green and Patrick M. Kirkwood
This piece contends that major threads dominant within the antebellum Democratic party, notably: American nationalism, proslavery, southern expansionism, imperialism, and transnational republicanism, were accurately reflected in the thought and actions of Pierre Soulé, Senator from Louisiana and US Minister to Madrid. It reexamines Soulé's controversial political and diplomatic career, making extensive usage of surviving contemporary documents, to argue for a nationalist, rather than a peculiarly southern, bent to his political thought. By emphasizing Soulé's transnational connections, it also questions many of the dominant historiographical distinctions previously drawn between foreign policy 'radicals' and the Democratic establishment. It further asserts the significance of networks between American diplomats serving in Europe during the 1850s and noted European liberal and republican figures, such as Lajos Kossuth, to the party's values.
"The God Who Shielded Me Before, Yet Watches Over Us All": Confederate Soldiers, Mental Illness, and Religion
by: Dillon J. Carroll
"'The God Who Shielded Me Before, Yet Watches Over Us All': Confederate Soldiers, Mental Illness, and Religion" argues that some Confederate soldiers fighting in the Civil War became mentally ill, likely due to their experiences in combat. This war trauma was intensely damaging and, for some southerners, led to commitment to an insane asylum or even suicide. But Confederates were not helpless in the face of such trauma. This article argues that some Confederate soldiers turned to religion as an effective coping strategy for war trauma. Religion gave order to the chaos of battle. Confederates often came to believe they had survived, and others died, because God had willed it so. This gave rationality to the slaughter of war and relief to the disordered mind.
Historians' Forum on Reconstruction
featuring: Charles Calhoun, Jane Turner Censer, Eric Foner, and Andrew Slap
Our historians' forum asks a number of experts to weigh in on recent trends in the historiography of Reconstruction, including the importance of the military and the expansion of the Reconstruction narrative to include the Trans-Mississippi West.
Contributors
Dillon J. Carroll is a Ph.D. candidate at the University of Georgia studying under Stephen Berry. He is writing a dissertation on psychological trauma among Civil War veterans.
Patrick M. Kirkwood is a doctoral candidate in transnational history at Central Michigan University. His most recent publication is "'Michigan Men' in the Philippines and the Limits of Self-Determination in the Progressive Era," in the Michigan Historical Review (Fall 2014).
Jennifer R. Green is visiting professor of history at Pacific University. She has authored Military Education and the Emerging Middle Class in the Old South (2007) and edited The Southern Middle Class in the Long Nineteenth Century (2011).
Reviews
Rubin, Sarah Anne. Through the Heart of Dixie: Sherman's March and American Memory. Reviewed by Jacqueline G. Campbell.
Gordon, Lesley J. A Broken Regiment: The 16th Connecticut's Civil War. Reviewed by Thomas J. Balcerski.
Longenecker, Steve. Gettysburg Religion: Refinement, Diversity, and Race in the Antebellum and Civil War Border North. Reviewed by Jared Peatman.
May, Robert E. Slavery, Race, and Conquest in the Tropics: Lincoln, Douglas, and the Future of Latin America. Reviewed by Christopher Childers.
Hilliard, Kathleen M. Masters, Slaves, and Exchange: Power's Purchase in the Old South. Reviewed by Adam Zucconi.
Woodward, Colin Edward. Marching Masters: Slavery, Race, and the Confederate Army during the Civil War. Reviewed by Jaime Amanda Martinez.
Gallagher, Gary W. Becoming Confederates: Paths to a New National Loyalty. Reviewed by Jim Owens.
Hilde, Libra R. Worth a Dozen Men: Women and Nursing in the Civil War South. Reviewed by Shauna Devine.
Devine, Shauna. Learning from the Wounded: The Civil War and the Rise of American Medical Science; Adams, Michael C. C. Living Hell: The Dark Side of the Civil War. Reviewed by Peter J. D'Onofrio.
Noe, Kenneth W, ed. The Yellowhammer War: The Civil War and Reconstruction in Alabama. Reviewed by Martin T. Olliff.
Christ, Mark K. Civil War Arkansas, 1863: The Battle for a State. Reviewed by Gary T. Edwards.
Lee, Susanna Michele. Claiming the Union: Citizenship in the Post—Civil War South. Reviewed by Daniel Ritchie.
Marten, James. America's Corporal: James Tanner in War and Peace. Reviewed by Susan Mary Grant.
Binnington, Ian. Confederate Visions: Nationalism, Symbolism, and the Imagined South in the Civil War. Reviewed by Robert L. Glaze.