December 2020, Volume 66, No. 4
Sep 8th, 2020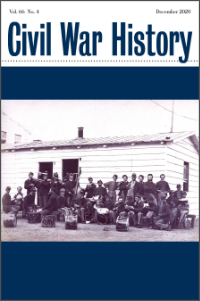 Abstracts
Mississippi "Milish":  Militiamen in the Civil War
by Tracy L. Barnett
This article explores the numerous Southern men who served in state militias during the American Civil War. In contrast to youthful, unmarried Confederate soldiers, militiamen tended to be married men in their thirties and forties. Given their family situations and generational status, these middle-aged men had household duties and careers attaching them their local communities. Civilians rarely accused them—having already proved themselves as worthy citizens, honorable patriarchs, and essential community members—of cowardliness or disloyalty. Rather, these men's local and household roles determined their wartime function. Based on age, fitness, family situation, and community obligation, Mississippians held variable conceptions of duty, honor, and loyalty. In turn, middle-aged militiamen eschewed Confederate service and instead held localized concepts of their wartime roles.
Locating Patriotism in Civil War Songs
by James A. Davis
Patriotism requires a locus of identity, something toward which a community's loyalty can be directed with some measure of confidence and sustainability. This was a particular challenge during the American Civil War. A shared cultural heritage and ill-defined borders made it difficult to delineate between the Union and the Confederacy in many ways, while stubborn regional loyalties and competing internal agendas made political and emotional unity a challenge for both countries. Despite these impediments, certain Civil War songs succeeded as patriotic anthems to such a degree that they remain icons today. A close look at songs such as "The Bonnie Blue Flag," "Maryland, My Maryland," "Dixie's Land," "Battle Hymn of the Republic," and "Yankee Doodle" reveals that during the American Civil War patriotic music constructed multivalent nationalistic spaces instead of referencing determinate geopolitical places. Combining locationally suggestive yet indistinct lyrics with likeable melodies, certain notable pieces generated ambiguous although substantive emotional and conceptual focal points. To be effective, these spaces had to be locatable and definable, even as they occupied a gray area around the tangible places and explicit ideas encountered in daily life. The songs discussed in this article succeeded by avoiding specificity in favor of abstractions that allowed them to serve diverse populations with common cause. They might provide a metaphoric substitute for a failed cause, describe an endearing fantasy realm, or realign past places to suit present needs. Each of these examples illustrates how strong regional loyalty and an adolescent national identity necessitated patriotic music fluid enough to adapt to ever-changing notions of nation, state and country during the American Civil War.
Contributors
Tracy L. Barnett is a doctoral student at the University of Georgia. She is currently completing her dissertation, "Men and Their Guns: The Culture of Self-Deputized Manhood in the South, 1850–1877."
James A. Davis is professor of musicology at the School of Music, State University of New York at Fredonia. His research focuses on American military music and musicians of the nineteenth century. His publications include Music along the Rapidan: Civil War Soldiers, Music, and Community during Winter Quarters, Virginia (2014) and Maryland, My Maryland: Music and Patriotism during the American Civil War (2019).
Reviews
Book Reviews
Rosenthal, Caitlin.  Accounting for Slavery:  Masters and Management.  Reviewed by Ben Davidson.
Fox-Amato, Matthew. Exposing Slavery:  Photography, Human Bondage, and the Birth of Modern Visual Politics. Reviewed by John Brooke.
Mauldin, Erin Stewart.  Unredeemed Land:  An Environmental History of the Civil War and Emancipation in the Cotton South.  Reviewed by John Martin McMillan.
Levin, Kevin M.  Searching for Black Confederates:  The Civil War's Most Persistent Myth. Reviewed by James G. Mendez.
Ash, Stephen V. Rebel Richmond:  Life and Death in the Confederate Capital. Reviewed by Tracy L. Barnett.
Stowe, Steven M. Keep the Days:  Reading the Civil War Diaries of Southern Women.   Reviewed by Holly M. Kent.
Broomhall, James J. Private Confederacies:  The Emotional Worlds of Southern Men as Citizens and Soldiers.  Reviewed by Thomas J. Balcerski.
Brown, Thomas J. Civil War Monuments and the Militarization of America. Reviewed by William B. Lees.