September 2020, Volume 66, No. 3
May 14th, 2020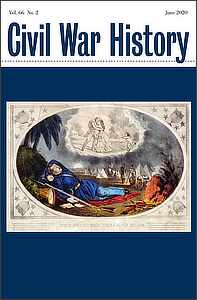 Abstracts
State of the Field Series
The Emergence of Conservatism as a Political Concept in the United States before the Civil War
by Adam I.P. Smith
This article explores when and why conservative became a keyword in America politics. In a quantitative study of the press, Smith shows the importance of American engagement with European politics when French radicalism in the 1790s and then British reform in the 1830s shaped American understanding of conservatism as a signifier of stability and progress that complemented Enlightenment liberalism's emphasis on freedom and equality. During the 1850s, conservatism became an attractive bulwark for Northerners of all political stripes seeking to navigate the storm of sectional conflict.
"In an Evil Hour This Pandora's Box of Slavery was Again Opened": Emotional Partisan Divisions in the Late Antebellum Conservative North
by Matthew Mason
This article reexamines the post-1850 party battle between Whigs and Democrats. While leaders such as Edward Everett and Stephen Douglas both claimed the mantle of conservatism, they used competing emotional registers to control the legacy of Henry Clay and the Compromise of 1850. Where Everett employed the rhetoric of mourning to express Whig opposition to the compromise's unraveling, Douglas and his fellow Democrats spoke with righteous fury in their attacks on abolitionists and Republicans, whom they blamed for sectional breakdown. Rather than accept the label of radicalism, Republicans cast themselves as the voice of an indignant Northern majority defending the Union and freedom from destabilizing change. Working with different methodologies, Smith and Mason demonstrate how conservatism served as the common ground of Northern politics and in that role pulled contending parties to the center.
Stephen Douglas's Enlightenment: Democracy, Race, and Rights in Civil War-Era Political Thought
by Joshua A. Lynn
In a different assessment of how conservatism mattered to Northern politics, this article brings the recent insights of political historians into a dialog with scholarship on political theory that treats conservatism as a content-based system of ideas, which by definition required either allegiance or rejection and was therefore less available to all political actors. When Stephen Douglas claimed that his version of popular sovereignty, which gave great power to local majorities, was simultaneously the one true conservative means for saving the Union and an extension of political liberty, Southern conservatives ripped into him for denying the conservative values of order and hierarchy and Northern liberals, led by Frederick Douglass, excoriated his betrayal of universalism and liberty. Although political traditions were malleable, Douglas pushed them to their breaking point.
"The Wisest Counsel of Conservatism": Northern Democrats and the Politics of the Center, 1865-1868
by Erik B. Alexander
Taking conservatism into Reconstruction, this article examines the National Union Convention of 1866 as a movement by Northern Democrats and moderate Republicans to create a new party that would redefine the political center. Alexander shows how conservatism continued to attract widespread support across the political spectrum after the war. As he argues, however, conservatism was an idea, not a party, and the practical problem of unifying Democrats and Republicans ran afoul of old partisan loyalties and fears of being coopted by rivals. Although the National Union movement failed, the same actors and ideas behind the fusion campaign of 1866 reappeared in the Liberal Republican ticket of 1872 and showed the long-term pull of conservatism as an element of the antiparty tradition that resurfaced again and again throughout the nineteenth century.
Contributors
Erik B. Alexander is associate professor in the Department of Historical Studies at Southern Illinois University, Edwardsville. His book manuscript, "Revolution Forestalled: Northern Democrats and the Politics of Reconstruction, 1865–1877," examines the role Northern Democrats played in preventing the success of federal Reconstruction programs after the war.
Joshua A. Lynn, assistant professor of history at Eastern Kentucky University, is the author of Preserving the White Man's Republic: Jacksonian Democracy, Race, and the Transformation of American Conservatism (2019). He is the recipient of the George and Ann Richards Prize for the best article published in the Journal of the Civil War Era in 2018.
Matthew Mason is professor of history at Brigham Young University. He is the author of books including Apostle of Union: A Political Biography of Edward Everett (2016), and coeditor of books including John Quincy Adams and the Politics of Slavery: Selections from the Diary (2017).
Adam I. P. Smith is the Edward Orsborn Professor of US Politics and Political History at the University of Oxford. His most recent book, The Stormy Present: Conservatism and the Problem of Slavery in Northern Politics, 1846–1865 (2017), won the Jefferson Davis Prize from the American Civil War Museum in Richmond and was a finalist for the Lincoln Prize.
Reviews
Book Reviews
Gallagher, Gary W. and Elizabeth Varon, eds. New Perspectives on the Union War. Reviewed by Mark Grimsley.
Wilentz, Sean. No Property in Man: Slavery and Antislavery at the Nation's Founding. Reviewed by Stanley Harrold.
Kornblith, Gary J. and Carol Lasser. Elusive Utopia: The struggle for Racial Equality in Oberlin, Ohio. Reviewed by John Frederick Bell.
Schweninger, Loren. Appealing for Liberty: Freedom Suits in the South. Reviewed by Aston Gonzalez.
Mendez, James G. A Great Sacrifice: Northern Black Soldiers, Their Families, and the Experience of Civil War. Reviewed by Jonathan Lande.
Cooper, William J. Approaching Civil War and Southern History. Reviewed by Mark Wahlgren Summers.
Gobat, Michel. Empire by Invitation: William Walker and Manifest Destiny in Central America. Reviewed by Laurel Clark Shire.
Kiser, William S. Coast-to-Coast Empire: Manifest Destiny and the New Mexico Borderlands. Reviewed by Jerry Thompson.
Burnett, Katharine A. Cavaliers and Economists: Global Capitalism and the Development of Southern Literature, 1820-1860. Reviewed by Jasmin Bath.
Escott, Paul D. Rethinking the Civil War Era: Directions for Research. Reviewed by Daniel E. Sutherland.