March 2021, Volume 67, No. 1
Nov 10th, 2020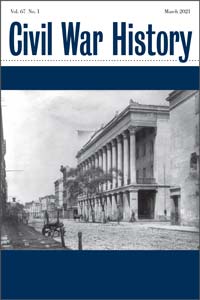 Abstracts
Charleston, City of Mourners:  Anticipations of Civil War in the Cradle of Secession
by Michael E. Woods
Remembered as an underdefended outpost that surrendered after a bloodless bombardment, Fort Sumter figures prominently in narratives of naive Americans charging into the Civil War's unimagined carnage. To the people living under its guns in the winter of 1860–61, however, the fortress inspired intense short- and long-term apprehension. Analysis of the public and private writings of white Charlestonians reveals widespread dread that a costly infantry assault on Sumter would trigger an exhausting, sanguinary war. Yet these expectations failed to nurture a powerful peace movement, because they carried divergent political meanings among residents divided by allegiance, nativity, and temperament. White Charlestonians did not rush blindly over the precipice, but anticipations of a calamitous battle yielded contradictory responses and, ironically, made war more likely.
Locating Patriotism in Civil War Songs
by James A. Davis
This article focuses on the interdependent relationships between federal officials and freedpeople in Texas during Reconstruction. Relying primarily on records from the Freedmen's Bureau, historical newspapers, and archival records from the Texas State Library and Archives, he argues that black Texans assumed informal roles as intelligence agents for the federal government and provided information that helped bureau agents and other officials understand and navigate unfamiliar spaces during the US Army's occupation of Texas. Information networks between federal officials and freedpeople helped extend the reach of the federal government and contributed to some of the occupation's intermittent successes in securing the rights of freedpeople.
Contributors
Edward Valentin Jr. received his BS in history from the US Military Academy and his PhD at Rice University. He is currently a museum curator at the National Museum of the United States Navy in Washington, DC.
Michael E. Woods is associate professor of history and director/editor of the Papers of Andrew Jackson at the University of Tennessee, Knoxville. He is the author of Bleeding Kansas: Slavery, Sectionalism, and Civil War on the Missouri-Kansas Border (2016) and Emotional and Sectional Conflict in the Antebellum United States (2014), which won the Southern Historical Association's James A. Rawley Award in 2015.
Reviews
Book Reviews
Handley-Cousins, Sarah.  Bodies in Blue:  Disability in the Civil War North.  Reviewed by Brian Matthew Jordan.
Lundberg, James M. Horace Greeley:  Print, Politics, and the Failure of American Nationhood. Reviewed by Gregory A. Borchard.
Taylor, Paul.  The Most Complete Political Machine Ever Known: The North's Union Leagues in the American Civil War.  Reviewed by Adam W. Dean.
Sainlaude, Steve.  France and the American Civil War:  A Diplomatic History. Reviewed by Erika Pani.
Fry, Joseph. Lincoln, Seward, and U.S. Foreign Relations in the Civil War Era. Reviewed by Steve Sainlaude.
Link, William A., ed. United States Reconstruction across the Americas.   Reviewed by Joseph A. Fry.
McCurry, Stephanie. Women's War:  Fighting and Surviving the American Civil War.  Reviewed by Randall M. Miller.
Clinton, Catherine. Stepdaughters of History:  Southern Women and the American Civil War. Reviewed by Lisa Tendrich Frank.