December 2021, Volume 67, No. 4
Sep 14th, 2021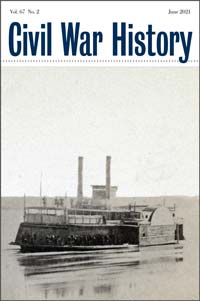 Abstracts
"I Love Country but I Love Family and Self Much Better": The Emotional World of Civil War Family Men
John Patrick Riley
"You Are of Value Now": Aeronauts Sought Professional Validation through the Military during the American Civil War
Richard D. Deverell
Contributors
Richard D. Deverell received his PhD in US history from the University at Buffalo in February 2021. His research focuses on cultural history with a background in the history of science.
John Patrick Riley earned his PhD in history from Binghamton University. He is currently visiting assistant professor of history at Lycoming College in Williamsport, Pennsylvania.
Reviews
Book Reviews
The Battle of the Wilderness in Myth and Memory: Reconsidering Virginia's Most Notorious Civil War Battlefield. Adam H. Petty.
Armed in America: A History of Gun Rights from Colonial Militias to Concealed Carry. Patrick J. Charles.
Camp Oglethorpe: Macon's Unknown Civil War Prisoner of War Camp, 1862–1864. Stephen Hoy and William Smith.
Administrations of Lunacy: Racism and the Haunting of American Psychiatry at the Milledgeville Asylum. Mab Segrest.
Apocalyptic Sentimentalism: Love and Fear in U. S. Antebellum Literature. Kevin Pelletier.