September 2021, Volume 67, No. 3
Jun 14th, 2021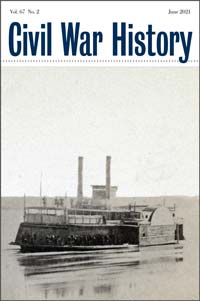 Abstracts
Egyptian Darkness: Antebellum Reconstruction, "Republicanization," and Southern Illinois in the Republican Imagination, 1854–61
By Eric Michael Burke
Contending with the Elements: The Role of Weather in the Battle of Spotsylvania Court House
By Cameron M. Boutin
Contributors
Cameron M. Boutin is a doctoral student in the University of Kentucky's history program. He is currently working on his dissertation, an environmental history of the Civil War that examines the ways Union and Confederate soldiers experienced the pressures of weather in their military service.
Eric Michael Burke earned his PhD in history from the University of North Carolina at Chapel Hill. He currently serves as a historian for Army University Press at the US Army Combined Arms Center on Fort Leavenworth.
Reviews
Book Reviews
Raising the White Flag: How Surrender Defined the American Civil War. David Silkenat.
The Women's Fight: The Civil War's Battles for Home, Freedom, and Nation. Thavolia Glymph.
Civil War Logistics: A Study of Military Transportation. Earl J. Hess.
Laid Waste! The Culture of Exploitation in Early America. John Lauritz Larson.
Preserving the White Man's Republic: Jacksonian Democracy, Race, and the Transformation of American Conservatism. Joshua A. Lynn.
Writing History with Lightning: Cinematic Representations of Nineteenth-Century America. Edited by Matthew Christopher Hulbert and John C. Inscoe.
Industrial Development and Manufacturing in the Antebellum Gulf South: A Reevaluation. Michael S. Frawley.