June 2022, Volume 68, No. 2
Feb 25th, 2022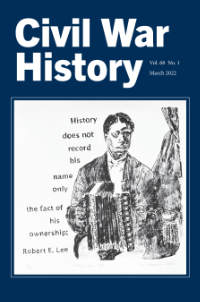 Contents
"We Need a Press—a Press of Our Own": The Black Press beyond Abolition
by Jim Casey
The Collective Making of Frederick Douglass' Paper
by Benjamin Fagan
Humor, Minstrelsy, and the Representation of African Americans in Macon's Georgia Telegraph and Georgia Citizen, 1855–1860
by Rosalyn Narayan
"The Gold of the Pen and the Steel of the Sword": The Unlikely and Fleeting Celebrity of Theodore Winthrop
by Timothy J. Williams
Juno's Civil War: Black Knowledge and Racial Resolution in Julia Collins's The Curse of Caste
by Brigitte Fielder
Reading the Emancipation Proclamation: Viewing Race and Freedom during the Civil War Era
by Aston Gonzalez
Contributors
JIM CASEY is assistant professor of African American studies, history, and English at Penn State, where he serves as the managing director of the Center for Black Digital Research. With P. Gabrielle Foreman, he is coeditor of The Colored Conventions Movement: Black Organizing in the Nineteenth Century (2021). He currently is writing a book on the rise of editors in the nineteenth- century United States.
BENJAMIN FAGAN is associate professor of English at Auburn University, where he teaches courses in early African American literature and culture. He is the author of The Black Newspaper and the Chosen Nation (2016), editor of African American Literature in Transition, 1830–1850 (2021), and coeditor, with Kathleen Diffley, of Visions of Glory: The Civil War in Word and Image (2019). He is currently working on a book-length project on the newspapers edited by Frederick Douglass.
BRIGITTE FIELDER is associate professor at the University of Wisconsin– Madison. She is the author of Relative Races: Genealogies of Interracial Kinship in Nineteenth-Century America (2020) and coeditor, with Jonathan Senchyne, of Against a Sharp White Background: Infrastructures of African American Print (2019). She is currently working on a book about racialized human-animal relationships in the long nineteenth century.
ASTON GONZALEZ is associate professor at Salisbury University, where he teaches African American history. His 2020 book, Visualizing Equality: African American Rights and Visual Culture in the Nineteenth Century, explores how African American activists produced and circulated images to advance numerous campaigns for Black rights.
ROSALYN NARAYAN is an independent scholar whose research explores the antebellum newspaper press of the American South. Her previous work has appeared in Slavery and Abolition, and she is currently writing a monograph on enslavers' ideologies and the Southern press in the late antebellum period.
TIMOTHY J. WILLIAMS is associate professor of history at the University of Oregon. He is the author of Intellectual Manhood: University, Self, and Society in the Antebellum South (2015) and coeditor, with Evan A. Kutzler, of Prison Pens: Gender, Memory, and Imprisonment in the Writings of Mollie Scollay and Wash Nelson, 1863–1866 (2018).
Reviews
Book Reviews
Maladies of Empire: How Colonialism, Slavery, and War Transformed Medicine, by Jim Downs
     Reviewed by Thomas Balcerski
Arguing until Doomsday: Stephen Douglas, Jefferson Davis, and the Struggle for American Democracy, by Michael E. Woods
     Reviewed by Evan C. Rothera
Women Making War: Female Confederate Prisoners and Union Military Justice, by Thomas F. Curran
     Reviewed by Melissa DeVelvis
A Worse Place Than Hell: How the Civil War Battle of Fredericksburg Changed a Nation, by John Matteson
     Reviewed by Kathleen Logothetis Thompson
All That She Carried: The Journey of Ashley's Sack, A Black Family's Keepsake, by Tiya Miles, and On Juneteenth, by Annette Gordon-Reed
     Reviewed by Catherine Clinton