March 2024, Volume 70, No. 1
Oct 20th, 2023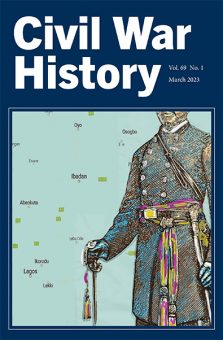 Contents
The Refugee Crisis of Sherman's March: Savannah, Port Royal, and the Transformation of the Sea Islands
By Bennett Parten
"Driven Out on the Old Charge of Being a Rebel": White-on-White Sectional Violence and the "Long" Bleeding Kansas
By Brent M. S. Campney
"Does the Civil War Matter?": A Roundtable Discussion
Moderator: Jim Downs; Participants: Yoni Appelbaum, Drew Gilpin Faust, Kerri K. Greenidge, Stephanie McCurry, Megan Kate Nelson, and Adam I. P. Smith
Contributors
YONI APPELBAUM, deputy editor at the Atlantic, is a social and cultural historian of the United States. Before joining the Atlantic, he was a lecturer on historyand literature at Harvard University. He previously taught at Babson College and Brandeis University, where he received his PhD in American history.
BRIE SWENSON ARNOLD is W. P. and Gayle S. Whipple Associate Professor of History at Coe College. Her research interests center on nineteenth-century race and gender with an emphasis on print and political culture.
BRENT M. S. CAMPNEY is professor of history at the University of Texas Rio Grande Valley. He is the author of Hostile Heartland: Racism, Repression, and Resistance in the Midwest (2019) and This Is Not Dixie: Racist Violence in Kansas, 1861–1927 (2015).
SARAH E. CHINN teaches American literatures and cultures in the English Department at Hunter College–CUNY. She is currently completing a book project that explores representations of amputation during Reconstruction and its relationship to white radicalism and antiracism.
JIM DOWNS is the Gilder Lehrman-National Endowment for the Humanities Professor of Civil War Era Studies and History at Gettysburg College. He is the author of Maladies of Empire: How Colonialism, Slavery, and War Transformed Medicine (2021). His other books include Sick from Freedom: African American Sickness and Suffering during the Civil War and Reconstruction (2012) and Stand by Me: The Forgotten History of Gay Liberation (2016).
DREW GILPIN FAUST is Arthur Kingsley Porter University Research Professor at Harvard University, where she served as president from 2007 to 2018. Faust is the author of several books, including Necessary Trouble: Growing Up at Midcentury (2023) and This Republic of Suffering: Death and the American Civil War (2008).
KERRI K. GREENIDGE is Mellon Associate Professor in the Department of Studies in Race, Colonialism, and Diaspora at Tufts University, where she also codirects the African American Trail Project. She is also codirector of Tufts's Slavery, Colonialism, and Their Legacies Project. Greenidge is the author of Black Radical: The Life and Times of William Monroe Trotter (2019). Her most recent book is the much lauded The Grimkés: The Legacy of Slavery in An American Family (2022).
JONATHAN S. JONES is assistant professor of history at James Madison University. His first book manuscript, "Opium Slavery: The Civil War, Veterans, and America's first Opioid Crisis," is forthcoming with UNC Press.
STEPHANIE MCCURRY is R. Gordon Hoxie Professor of American History in Honor of Dwight D. Eisenhower at Columbia University. She teaches and writes about the nineteenth-century United States, the Civil War and Emancipation, and women's and gender history. She is the author of three prizewinning books, including and Women's War: Fighting and Surviving the American Civil War (2019).
LAWRENCE T. MCDONNELL is assistant professor of history at Iowa State University. He is the author of Performing Disunion: The Coming of the Civil War in Charleston, South Carolina (2018).
MEGAN KATE NELSON is a historian and writer, with a BA from Harvard and a PhD in American Studies from the University of Iowa. She is the author of four books, including Saving Yellowstone: Exploration and Preservation in Reconstruction America (2022) and The Three-Cornered War: The Union, the Confederacy, and Native Peoples in the Fight for the West (2020).
JONATHAN A. NOYALAS is director of the McCormick Civil War Institute at Shenandoah University, where he also teaches. His most recent book is Slavery and Freedom in the Shenandoah Valley during the Civil War Era (2021).
BENNETT PARTEN is assistant Professor of history at Georgia Southern University. He holds a PhD in history from Yale University. His forthcoming book, "Somewhere Toward Freedom: Sherman's March and the History of Emancipation," is under contract with Simon & Schuster.
ADAM I. P. SMITH is the Edward Orsborn Professor of United States Politics & Political History at the University of Oxford, where he is director of the Rothermere American Institute. His latest book is The Stormy Present: Conservatism and the Problem of Slavery in Northern Politics, 1846–1865 (2017), and his previous books include No Party Now: Politics in the Civil War North (2006).
Reviews
Book Reviews
Rebels in the Making: The Secession Crisis and the Birth of the Confederacy, by William L. Barney
Reviewed by Lawrence T. McDonnell
The Cacophony of Politics: Northern Democrats and the American Civil War, by J. Matthew Gallman
Reviewed by Brie Swenson Arnold
At War with King Alcohol: Debating Drinking and Masculinity in the Civil War, by Megan L. Bever
Reviewed by Jonathan S. Jones
Of Age: Boy Soldiers and Military Power in the Civil War Era, by Frances M. Clarke and Rebecca Jo Plant
Reviewed by Sarah E. Chinn
The Whartons' War: The Civil War Correspondence of General Gabriel C. Wharton & Anne Radford Wharton 1863–1865, edited by Edited by William C. Davis and Sue Heth Bell
Reviewed by Jonathan A. Noyalas