The Murder of Mary Bean and Other Stories
Audiobooks
,
Award Winners
,
True Crime
,
True Crime History
Description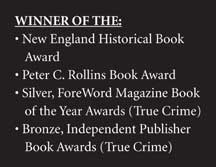 The facts and fiction of an infamous New England murder
When the winter ice melted in April 1850, residents of Saco, Maine, made a gruesome discovery: the body of a young girl submerged in a stream. Thanks to evidence left at the scene, a local physician was arrested and tried for the death of Mary Bean, the name given to the unidentified young girl; the cause of death was failed abortion. Garnering extensive newspaper coverage, the trial revealed many secrets: a poorly trained doctor, connections to an unsolved murder in New Hampshire, and the true identity of "Mary Bean"—a young Canadian mill worker named Berengera Caswell, missing since the previous winter. The Murder of Mary Bean and Other Stories examines the series of events that led Caswell to become Mary Bean and the intense curiosity and anxiety stimulated by this heavily watched trial.
In addition to the sensationalist murder accounts, De Wolfe looks back at these events through a wide-angle lens exploring such themes as the rapid social changes brought about by urbanization and industrialization in antebellum nineteenth-century society, factory work and the changing roles for women, unregulated sexuality and the specter of abortion, and the sentimental novel as a guidebook. She posits that the real threat to women in the nineteenth century was not murder but a society that had ambiguous feelings about the role of women in the economic system, in education, and as independent citizens.
Sure to place this case among the classics of crime literature, The Murder of Mary Bean and Other Stories features two reprinted accounts of Caswell's death, both fictional and originally printed in the 1850s, as well as an introduction that places these salacious accounts in a historical context. This book serves not simply as true crime but, rather, presents a seamy side of rapid industrial growth and the public anxiety over the emerging economic roles of women.
Author
Elizabeth A. De Wolfe is associate professor of history at the University of New England in Biddeford, Maine. She is coeditor (with Thomas S. Edwards) of Such News of the Land: U.S. Women Nature Writers (2001) and the author of Shaking the Faith: Women, Family and Mary Marshall Dyer's Anti-Shaker Campaign, 1815–1867 (2002), which received the 2003 Outstanding Publication Award from the Communal Studies Association.
Audiobook Sample

Audiobook Sample
The Murder of Mary Bean and Other Stories