Edward A. Altemos
| Filed under:
American History
,
Civil War Era
,
Civil War Soldiers and Strategies
,
Military History
,
Recent Releases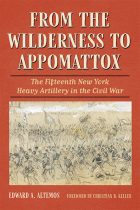 In early 1864, many heavy artillery regiments in the Civil War were garrisoning the Washington defenses, including the Fifteenth New York. At the same time, newly minted Union general in chief Ulysses S. Grant sought to replenish the ranks of the Army of the Potomac, and the Fifteenth became one of the first outfits dispatched to Major General George Meade at Brandy Station.
Drawing on a wealth of previously unmined primary sources, Edward A. Altemos pays tribute to the Fifteenth, other heavy artillery regiments, and the thousands of immigrants who contributed to the Union army's victory.
---