Phil Nichols and Jonathan R. Eller
| Filed under:
Film
,
Literature & Literary Criticism
,
Science Fiction and Fantasy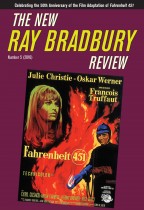 As a highly visual writer, Ray Bradbury's works have frequently been adapted for film and television. One of the most stylized and haunting dramatizations is François Truffaut's 1966 film adaptation of Fahrenheit 451. For this fifth volume of The New Ray Bradbury Review, guest editor Phil Nichols brings together essays and articles that reflect upon Bradbury's classic novel and Truffaut's enduring low-tech science fiction film, fifty years after its release.
---