Sarah Tracy Burrows and Ryan W. Keating
| Filed under:
American History
,
Civil War Era
,
Forthcoming
,
Interpreting the Civil War: Texts and Contexts
,
U.S. History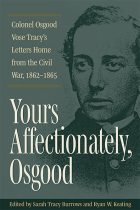 More than 3 million men served in the American Civil War. In Yours Affectionately, Osgood, editors Sarah Tracy Burrows and Ryan W. Keating have assembled a collection of letters from one of those soldiers—Osgood Vose Tracy of the 122nd New York Infantry. Sarah Tracy Burrows, a descendant of Colonel Tracy, has compiled this expansive collection from her family's private papers. Paired with illuminating discussion and context from noted historian Ryan W. Keating, Tracy's letters home follow his journey as a soldier and prisoner of war from his enlistment in September 1862 through the end of the war in May 1865, as Tracy then readjusted to civilian life.
---