Kevin Adams and Leonne M. Hudson
| Filed under:
African American Studies
,
American History
,
Civil War Era
,
Discover Black History
,
Symposia on Democracy
,
Understanding Civil War History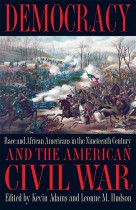 In 1865, after four tumultuous years of fighting, Americans welcomed the opportunity to return to a life of normalcy. President Abraham Lincoln issued his emancipation decree in January 1863 and had set the stage for what he hoped would be a smooth transition from war to peace with the announcement of his reconstruction program in December 1863 and with his call of "malice toward none and charity for all" in his Second Inaugural Address in March 1865. Lincoln's dream of completing the process of reconstructing the nation was cut short just one month later by the hand of an assassin.
---