Georgiann Baldino
| Filed under:
Civil War in the North
,
Military History
,
U.S. History
,
Understanding Civil War History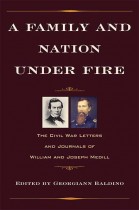 This collection of previously unpublished diaries and correspondence between Maj. William Medill and older brother Joseph, one of the influential owners of the Chicago Tribune, illuminates the Republican politics of the Civil War era. The brothers correct newspaper coverage of the war, disagree with official military reports, and often condemn Lincoln administration policies. When shots were fired at Fort Sumter, the Medills mobilized, unaware how their courage would be tested in the coming years.
---