Patricia A. Donohoe
| Filed under:
Civil War Era
,
Civil War in the North
,
Understanding Civil War History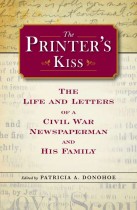 In language that resonates with power and beauty, this compilation of personal letters written from 1844 to 1864 tells the compelling story of controversial newspaper editor Will Tomlinson, his opinionated wife (Eliza Wylie Tomlinson), and their two children (Byers and Belle) in the treacherous borderlands around that "abolitionist hellhole," Ripley, Ohio. The
Printer's Kiss includes many of Tomlinson's columns that appeared in the Ripley Bee, the local Ripley newspaper, and excerpts from a short story in the Columbian Magazine. It features many of his letters to his family and a remarkable number of letters from Eliza and the children to Tomlinson while he was away during the Civil War, serving variously as quartermaster sergeant for the Fifth Ohio, as captain of a company of counterinsurgents in West Virginia, as an independent scout and spy in Kentucky, as a nurse on a hospital boat, and as a compositor for the Cincinnati Gazette.
---