Holly M. Kent
| Filed under:
American Abolitionism and Antislavery
,
Explore Women's History
,
Literature & Literary Criticism
,
Understanding Civil War History
,
Women's Studies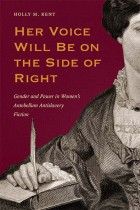 Decades before the Civil War, the free American public was gripped by increasingly acrimonious debates about the nation's "peculiar institution" of slavery. Ministers considered the morality of slavery from their pulpits, legislators debated it in the halls of government, professors discussed it in their classrooms, and citizens argued about it in their communities. Antislavery women wrote novels and stories designed to convince free Americans about slavery's evils, to discuss the future of abolitionism, and to debate the proper roles of free and enslaved women in the antislavery struggle. Many antebellum writers and editors believed fiction was an especially genderappropriate medium for women to express their ideas publicly and a decidedly effective medium for reaching female readers. Believing that women were naturally more empathetic and imaginative than men, writers and editors hoped that powerfully told stories about enslaved people's sufferings would be invaluable in converting free female readers to abolitionism.
---