Eddie Hart and Dave Newhouse
| Filed under:
Award Winners
,
Black Squirrel Books
,
Discover Black History
,
eBook Sale 20
,
Sports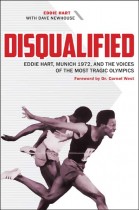 Having previously tied the world record, Eddie Hart was a strong favorite to win the 100-meter dash at the 1972 Olympics in Munich, Germany. en the inexplicable happened: he was disqualified after arriving seconds late for a quarterfinal heat. Ten years of training to become the "World's Fastest Human," the title attached to an Olympic 100-meter champion, was lost in a heartbeat. But who was to blame?
---