Phillip M. Richards
| Filed under:
Autobiography & Memoirs
,
Discover Black History
,
Voices of Diversity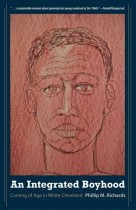 In An Integrated Boyhood, Richards candidly describes how this exemplary middle-class Cleveland sojourn left him hopelessly confused and dislocated at the very moment of his parents' triumph. His narrative of success provides the background to a more private turmoil: Richards's struggle to read the shifting meanings of his privileged experience amid the city's shifting racial lines, the fringe on the Left, the tumult of rising black consciousness, and the fears of nervous white suburban neighbors. This coming-of-age story sings the undersong of an older generation's hard-won success. Like all black Clevelanders, Richards was forced to struggle for his understanding of the city's—and his own—endless racial confusion in the midst of frightening historical change. It is this reality that recurs throughout Richards's memoir: the early encounters of a scared, bookish African American boy from Mt. Pleasant with what can only be described as the real world.
---