Kimberly Chrisman-Campbell
| Filed under:
Clothing & Costume
,
Costume Society of America
,
Political Science & Politics
,
Recent Releases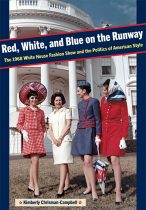 On February 29, 1968, the White House hosted its first—and only—fashion show. At the time, the patriotic event was lauded by the press, and many predicted it would become an annual occasion, especially since fashion had grown to become the fourth largest industry in the United States, employing 1.4 million Americans, more than 80 percent of them women. But the social and political turmoil of that particular year—from the Vietnam War, the civil rights movement, and the assassinations of Dr. Martin Luther King Jr. and Sen. Robert F. Kennedy—cast a shadow over the festivities.
---