Robert A. Simons, Gary DeWine and Larry Ledebur
| Filed under:
Architecture & Urban Renewal
,
Sacred Landmarks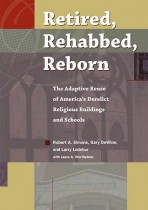 Each year in the United States, hundreds of religious buildings and schools become vacant or underutilized as congregations and populations merge, move, or diminish. These structures are often well located, attractive, eligible for tax credits, and available for redevelopment. In this practical and innovative handbook, authors Simons, DeWine, and Ledebur have compiled a step-by-step guide to finding sustainable new uses for vacant structures. The reuse of these important buildings offers those charged with revitalizing them an opportunity to capture their embodied energy, preserve local beloved landmarks, and boost sustainability. Rehabbing presents an opportunity for developers to recoup some value from these assets. Neighbors and other stakeholders also enjoy benefits as the historic structures are retained and the urban fabric of communities is preserved.
---