Kimberly Greene-Liebowitz and Dana Corriel
| Filed under:
Explore Women's History
,
Health Humanities
,
Literature & Medicine
,
Recent Releases
,
Women's Studies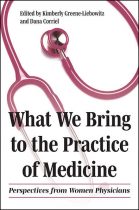 While men and women physicians face different challenges and bring different historical experiences to the examination table, the history of medicine has been primarily told by men. Doctors Kimberly Greene-Liebowitz and Dana Corriel compile the pieces in this collection to highlight the many topics of concern for women physicians––some of which may be unknown to medical field outsiders. Topics include the physician-patient relationship, mastery of clinical practice, barriers to career advancement and success, and the challenge of balancing a demanding professional life with domestic responsibilities, an issue brought to the fore by the COVID-19 pandemic.
---