Jeanne Bryner
| Filed under:
Explore Women's History
,
Literature & Medicine
,
Medicine
,
Poetry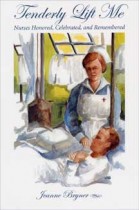 Those who teach the literature of medicine have questioned why there is a lack of rich materials that connects nursing and the humanities. Author and poet Jeanne Bryner has gathered biographical sketches of remarkable nurses, each accompanied by poetry and photographs, and has created the multigenre presentation that is the compassionate and complex Tenderly Lift Me. This is the first book in the Literature and Medicine Series that concentrates on nurses' voices and their experiences with providing health care. It enhances and extends perspectives on how health care is understood and delivered by recognizing nurses as the primary care givers.
---