David Seed
| Filed under:
Literature & Literary Criticism
,
Science Fiction and Fantasy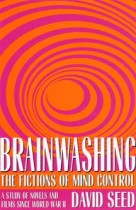 This study reviews 1950s science fiction, Korean War fiction, and the film The Manchurian Candidate. Seed provides new interpret-ations of writers such as Orwell and Burroughs within the history of psychological manipulation for political purposes, using declassified and other documents to contextualize the material. He explores the shifting viewpoints of how brainwashing is represented, changing from an external threat to American values to an internal threat against individual American liberties by the U.S. government.
---