Robert J. Wynstra
| Filed under:
Audiobooks
,
Award Winners
,
Civil War Era
,
Civil War Soldiers and Strategies
,
Military History
,
Recent Releases
,
U.S. History
,
Understanding Civil War History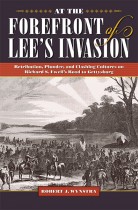 After clearing Virginia's Shenandoah Valley of Federal troops, Gen. Robert E. Lee's bold invasion into the North reached the Maryland shore of the Potomac River on June 15, 1863. A week later, the Confederate infantry crossed into lower Pennsylvania, where they had their first sustained interactions with the civilian population in a solidly pro-Union state. Most of the initial encounters with the people in the lush Cumberland Valley and the neighboring parts of the state involved the men from the Army of Northern Virginia's famed Second Corps, commanded by Lt. Gen. Richard S. Ewell, who led the way as Lee's veteran soldiers advanced north toward their eventual showdown with the Union army at the crossroads town of Gettysburg.
---